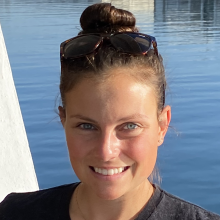 Molly Curran
NUI/Mesobot Operator
Engineer II
Woods Hole Oceanographic Institution
Tell us about your work/research. What kinds of things do you do?
I am a mechanical engineer in the Deep Submergence Lab at Woods Hole Oceanographic Institution. I design and operate deep-sea robotic vehicles, systems, and samplers.
What sparked your initial interest in your career?
I grew up with a family of engineers, so I was time and again enamored by the cool projects they were working on and fun designs they were scheming up. I saw the opportunity to be hands-on, creative, and capable of nearly anything. I was always asking questions of how things worked and how we could fix them ourselves or make something new. This drove my desire to become an engineer. What drew me to the ocean was is harsh, unpredictable nature. Not only must you crunch numbers and create engineering designs, but you must also take into account unforeseeable facets such as animals, weather, currents, tides, and equipment failure.
Who influenced you or encouraged you the most?
My mother, father, and brother are all huge inspirations for me. They have always driven me to explore and adventure, to run with the big dogs, and never stop learning. As a child when I used to race standup jetskis, I was often the only female on the line. My dad would inspire me to not only go out there and race with the guys but to go out there and beat them – to prove that it didn't matter that I was a girl, what mattered was that I could race.
What element of your work/study do you think is the most fascinating?
Working in the Arctic was one of the most incredible experiences of my life. So incredibly harsh and unforgiving, yet beautiful and serene at the same time. Working in the ice can pose a lot of challenges, but looking out over the vast seemingly never-ending ridges of ice and snow, in hopes of maybe spotting a polar bear as the sun peaks over the horizon for just a few hours creating a pink reflection across the terrain - makes it all worth it.
What other jobs led to your current career?
I started at Woods Hole Oceanographic Institution right out of college. Throughout my years at WHOI I've worked on a large variety of AUVs, ROVs, hybrid vehicles, towed vehicles, and samplers. As a kid, I worked at a marina which fueled my interest in being on and around the water.
What are your degrees and certifications?
Bachelor of Science in Mechanical Engineering, Minor in Ocean Engineering - University of New Hampshire 2015
What are your hobbies?
I enjoy being outside – Skiing, hiking, camping, boating, water sports, scuba diving. I grew up racing standup jetskis in the summer with my family and the sport is still a big part of our lives.
How did you get involved with the Ocean Exploration Trust?
I have worked for Woods Hole Oceanographic Institution for over 6 years. Our two robots, Nereid Under Ice (NUI) and Mesobot will be demonstrating new technology on the cruise. I will help operate and maintain the vehicles.
What advice would you give to someone who wants to have a career like yours?
My advice for those beginning their careers in engineering or ocean exploration is this: It can be overwhelming. And sometimes, especially in the beginning, you may feel like you are surrounded by the most brilliant people and all the best technology(which you likely are), but don't let that intimidate you. Let it drive you to learn. Never stop learning, never stop asking questions, and never stop pushing yourself to the edge of your comfort zone.
The most incredible part of deep ocean exploration is the challenge and uncertainty. We are pushing the boundaries of technology to explore places never before explored by humans.
Expeditions
Molly participated in the following Ocean Exploration Trust expeditions: