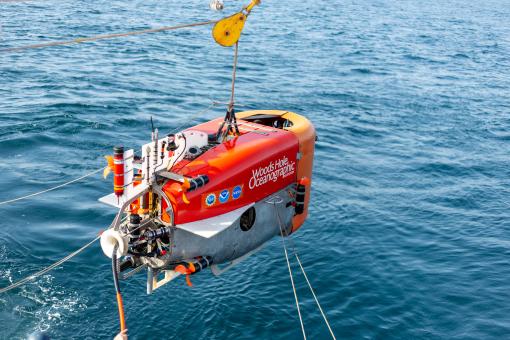 Ocean Exploration Trust
The hybrid remotely-operated vehicle (HROV) Nereid Under-Ice (NUI) was originally developed by engineers at Woods Hole Oceanographic Institution (WHOI) to explore ice shelves and floating sea ice far from its support ship and to operate in multiple modes, from a remotely-operated vehicle tethered to a research vessel and as a fully autonomous vehicle.
While NUI was developed to operate under Arctic ice conditions, its novel design and hybrid technology allows it to autonomously operate in difficult-to-reach places. Traditional ROVs with heavy armored tethers are limited in range and ability to get close to changing environmental conditions like sea ice, but NUI is able to travel laterally underwater with a lightweight tether up to 40 kilometers (25 miles), or be set up to operate fully autonomously.