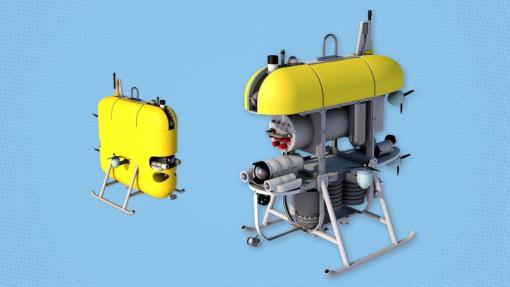 Woods Hole Oceanographic Institution
The hybrid remotely-operated vehicle (HROV) Mesobot was developed by Woods Hole Oceanographic Institution (WHOI) to visually survey and sample the ocean twilight zone, or mesopelagic zone, without disrupting the environment in which it operates. Mesobot has an extended battery life allowing it to observe delicate animals for as long as 48 hours in this critically understudied habitat. 
Mesobot was designed by engineers at WHOI to deploy for longer than a full day to follow animals as they undertake vertical migrations at dawn and dusk from the deep ocean towards the surface. Just as benthic organisms are influenced by the terrain of the seafloor, organisms that live in the midwater — also known as the "twilight zone'' — are influenced by light.
In addition, Mesobot can accommodate many sensor devices, including a sampler that pumps seawater through filters to collect environmental DNA, or eDNA. These traces of DNA are left behind by animals that were recently in the area and can help scientists understand species that live in the twilight zone — even if they never see them. 
Mesobot is a collaborative effort by Woods Hole Oceanographic Institution (WHOI), the Monterey Bay Aquarium Research Institute (MBARI), Stanford University, and the University of Texas Rio Grande Valley.
Science & Tech
Ocean exploration is a dynamic balance of understanding science and using the best in underwater technology.
Expeditions
Get a sneak peek of where we're headed next or revisit the discoveries of our past expeditions.
Classroom Resources
OET hosts a suite of free educational materials for use in classrooms, at home, or in the community.
Mesobot At-a-Glance
General
1,000 Meters
1.5 meters long, 1.5 meters high, 1 meter wide
250 kilograms
Up to 20kg for added samplers and sensors
Tethered remotely operated vehicle or untethered autonomous vehicle
Greater than 24 hours using lithium-ion batteries
Six low-power thrusters
Imaging & Lighting
Two monochrome cameras for stereo imaging
4K color video/still camera for scientific imaging

 Dimmable LED lights that switch from red to white