Blog:
Teaming Up For Ocean Technology in the Central Pacific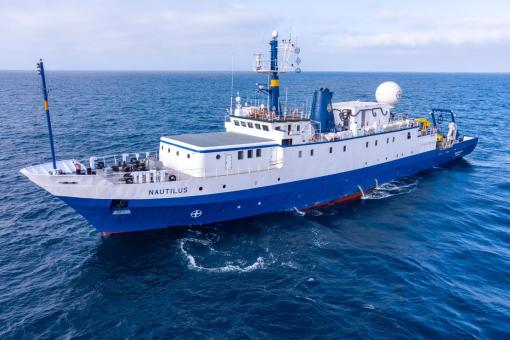 Ocean Exploration Trust
Our third expedition of 2022 (NA139) features NOAA Ocean Exploration Cooperative Institute (OECI) partners in a collaborative effort to test, refine, and demonstrate new technologies working together to expand our capabilities to explore the world's ocean. E/V Nautilus' back deck will be full as OECI partners University of New Hampshire mobilize their uncrewed surface vessel DriX, and Woods Hole Oceanographic Institution brings hybrid remotely operated underwater vehicle Mesobot and hybrid ROV Nereid Under Ice (NUI) aboard. This technology integration takes many goals from last seasonʻs technology test even further, advancing technologies and training teams to work in new vehicle operational combinations. Over the course of 16-days near the island of Oahu, the team will test vehicles furthering the OECI's goal of developing the tools and technology to enable ocean exploration activities to be conducted remotely or without human supervision.
Lead Scientist Larry Mayer from the University of New Hampshire says the Technology Integration cruise will, "focus on developing protocols and pushing our capabilities in the use of autonomous or uncrewed vehicles to expand our ocean exploration footprint. Historically, ocean exploration has been carried out from large crewed research vessels that can only support a single robotics operation at a time. On NA139, we will begin our efforts to deploy autonomous vehicles from the crewed vessels and send them on independent missions (allowing the mother ship to perform other exploration operations and gaining exploration efficiency). Specifically, we will be using DriX to track and communicate with autonomous underwater vehicles Mesobot and NUI transmitting data to and from these vehicles and monitoring their status. If successful, these operations will open up a new era of multi-vehicle operations that will greatly increase the efficiency of ocean exploration." 
Imagine Nautilus diving with ROV systems while simultaneously mapping or midwater exploration happening nearby with parallel vehicle teams. During this expedition, youʻll see the incremental diving operations meant to accomplish our three main goals for this expedition's technology integration;
vehicles communicating with each other while simultaneously deployed; 
vehicles being re-tasked based on information gained from a partner vehicle; and 
demonstrating further advances in teleoperations with operators back on shore.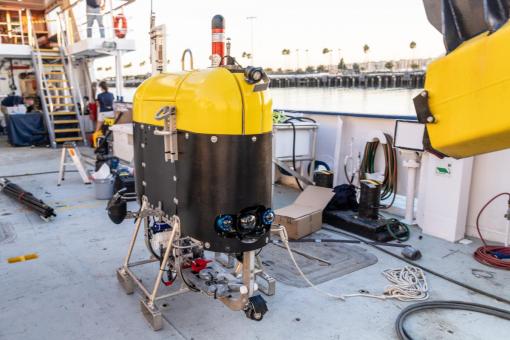 Credit
Ocean Exploration Trust
The hybrid remotely-operated vehicle (HROV) Mesobot was developed by Woods Hole Oceanographic Institution (WHOI) with support from the Monterey Bay Aquarium Research Institute (MBARI), Stanford University, and the University of Texas Rio Grande Valley. Mesobot was designed specifically to  survey and sample the ocean twilight zone, or mesopelagic, without disrupting its surroundings. Just as benthic organisms are influenced by the structure and composition of the seafloor, organisms that live in the midwater are often influenced by the variability of light. Many species will hide in the darkness of the twilight zone during the day and only venture to the surface to feed under cover of darkness. Guided by data from a sensitive radiometer (tool to measure the intensity of sunlight/moonlight) Mesobot is equipped to measure even the faintest traces of light, much as a twilight zone resident is able, and to follow isolumes–layers of constant light level–in order to mimic the behavior of those animals that migrate according light reaching the depths. To learn more about the diverse and poorly known life in this ocean layer, Mesobot also carries a sampler that pumps large volumes of seawater through filters to collect environmental DNA, or eDNA, to detect the genetic signatures that animals leave in the water. By analyzing these filters, biologists will be able to tell who recently floated or swam through the twilight zone and how they are moving within a single dayʻs migration.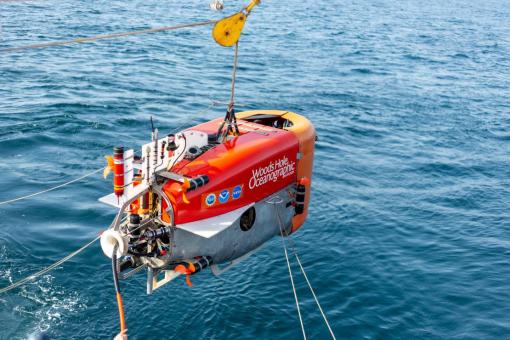 Credit
Ocean Exploration Trust
The hybrid remotely-operated vehicle (HROV) Nereid Under-Ice (NUI) was originally developed by engineers at WHOI to explore hazardous or rapidly changing environments such as ice shelves and beneath floating sea ice and to operate as either remotely-operated vehicle tethered to a research vessel or a fully autonomous, free-swimming vehicle. Traditional ROVs with heavily armored tethers have limited mobility laterally away from the host ship, but NUI is connected to the surface by a lightweight fiber-optic tether and so is able to move much more freely once deployed or, if deployed from an icebreaker anchored in sea ice, is able to remain in one location while the ship drifts with the ice. NUI Is also a testbed for new underwater exploration technologies and methods. On this expedition, NUI team members will once again press the boundaries of the vehicle's autonomous and remote operational capabilities. They will also test its ability to operate at extreme horizontal distance from the ship in preparation for a 2023 trip to study the submerged face of a glacier in Greenland.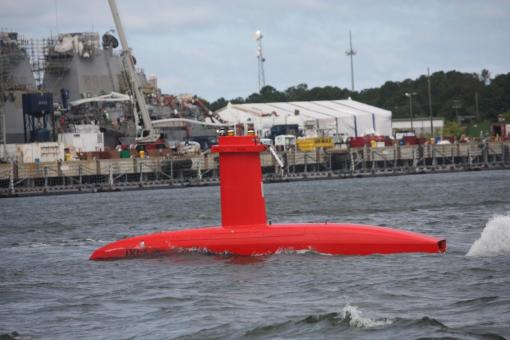 Credit
Ocean Exploration Trust
Uncrewed surface vehicle (USV) DriX designed by iXblue is a 7.7 m long vehicle with an innovative wave-piercing bow and diesel propulsion system providing high speeds and long endurance for many applications. Whether operating as a mapping platform or as a communication relay for supervising other underwater vehicles, DriX helps move ocean exploration towards multi-platform parallel operations, thereby greatly expanding how much can be accomplished in a single mission. DriX uses three main types of sonar, the first being EM2040 Multibeam sonar (200-400 kHz), which provides seaflor swath-mapping in shallower water than the Nautilusʻs EM302 Multibeam 30kHz system. DriX also carries an EK-80 Single Beam Fisheries Echosounder with 7-degree, 200kHz (and optionally 70kHz) transducers. This sonar helps reveal dynamics of the midwater including seeing species vertical migration through the water column and can guide midwater-specialist vehicle AUV Mesobot. Finally, DriX is also equipped with a Sonardyne "HPT3000" combined Ultra-Short Base-Line (USBL) sonar and underwater acoustic modem. 
The main purpose of this expedition will be testing how the vehicles can work together to further ocean exploration goals. For example, DriX's EK-80 system, and to some extent the EM2040 Multibeam, will map the water column, tracking the diurnal migration of the deep scattering layer. Then, with the aid of scientists both aboard the ship and (via the ship's satellite internet connection) across the globe, operators will guide Mesobot to track and sample this migration using the DriX radio telemetry systems and underwater acoustic modem for communication. DriX will also operate in collaboration with NUI, tracking the vehicle and providing a similar communications relay. NUI is unique in its ability to travel great distances from the ship while maintaining a communications link via fiber optic tether. However any submerged vehicle suffers from growing position uncertainty as errors accumulate in its navigation systems' dead-reckoning from its dive point. DriX will aid NUI by tracking it during mission and providing critical position updates during operations, again via the USBL and underwater acoustic modem in the event NUI's fiber optic umbilical breaks.  
During this expedition, E/V Nautilus will serve as the launching point for this important and exciting collaboration. We will be streaming live 24/7 from various locations around the ship and pursuing connections ashore via live video, audio, and data feeds from the field, as well as ship-to-shore interactions direct to classrooms and science centers. Future gains in ocean exploration efficiency are made through investing in time to develop, test, validate, and cross-train teams' fundamental collaboration concepts and protocols. This expedition, funded by NOAA Ocean Exploration via the Ocean Exploration Cooperative Institute, will strengthen relationships between OECI partners and provide knowledge transmission among ocean exploration teams.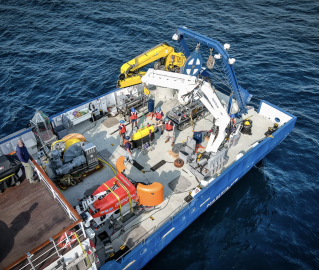 E/V Nautilus Expedition
A key objective of the NOAA Ocean Exploration Cooperative Institute (OECI) is to develop the tools and technology that enable ocean exploration activities to be conducted remotely or without human supervision.