Blog:
Visualizing the Future of Technology at Sea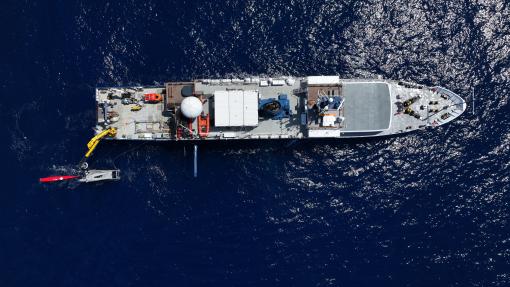 Ocean Exploration Trust
This blog was written by Marley Parker, a video engineer aboard NA139. 
On an expedition like this one, we hear a lot of catchy slogans about the "future of ocean technology". The NA139 expedition plan states that one of our main goals is to "develop the tools and technology that enable ocean exploration activities to be conducted remotely or without human supervision." 
Sounds cool. But what does that objective really mean? What does "developing tools and technology" look like in real life – in the open ocean? 
In a word: difficult. 
Val Schmidt, a Research Engineer on the DriX team, doesn't sugarcoat it.  
"Engineering reliability is a hard slog," he says. "You can design out the wazoo, then get in the field, get humbled, and you have to try again. There are so many things you can't solve until you try it." 
When Schmidt teaches, he often tells his students to consider the difference in density between water and air: a factor of a thousand. Any autonomous vessel must be able to handle anything water or air throws at it: taking a beating from large waves, navigating through intense weather systems, and enduring the corrosive effects of saltwater.
"The ocean can be a more challenging environment than outer space," says Robin Littlefield, a Research Engineer at Woods Hole Oceanographic Institution (WHOI) and member of the NUI team. "We're doing things on Mars that we can't do in the ocean right now."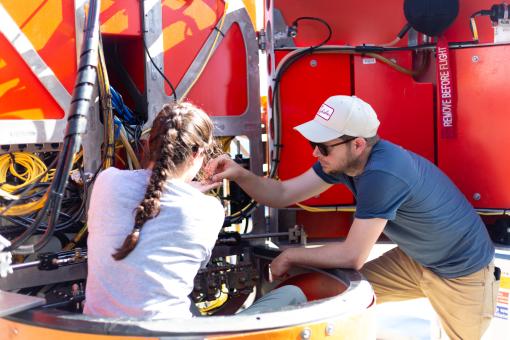 Credit
Ocean Exploration Trust
Comparisons between space and ocean exploration abound but when considering how ocean technologies will evolve over the next few decades, using space exploration as an analogue is helpful. What will the operations that we are conducting at sea today look like ten years down the road? What about 20 years? Fifty years? 
When I pose these questions to oceanographers and engineers, the first thing they mention is reducing personnel: expeditions of the future will involve far fewer people going to sea, which will increase efficiency by saving huge sums money and resources. Research teams may still include dozens of people, but almost all of them can conduct their studies from land. It will also enable longer-term operations in more high-risk environments.  
But what exactly needs to happen before research expeditions reach that point? What technological advances need to occur before we can drastically downsize science and engineering teams at sea? 
"These assets have to be able to handle the delay in data transfer," Littlefield explains.  "And the operators on land have to be confident the system will make the right decisions during the communications lag."  
Take DriX, for example – the bright red un-crewed surface vessel currently residing on the starboard side of the aft deck. The safety of the vehicle is currently limited by bandwidth. 
"If the boat's autonomy level isn't high enough – if it can't think for itself – the operator has to do that," Schmidt says. "And the operator needs to see the boat's sensor data in real time, which can require a lot of bandwidth."
While the vessel currently utilizes an Iridium satellite system, that technology doesn't provide enough bandwidth for safe operation in waters with significant ship traffic.
Evolutions in satellite-based broadband, and innovative ways of compressing relevant information will overcome that hurdle, according to Schmidt. In the future, a DriX operator could be on the east coast of the United States, and safely pilot the surface vessel into a busy harbor in Japan. 
The other major technology breakthrough that Schmidt says would make all the difference is a "true revolution" in battery capacity. 
"Turning DriX into a battery-operated vehicle instead of a combustion engine would simplify a huge amount of stuff," he says.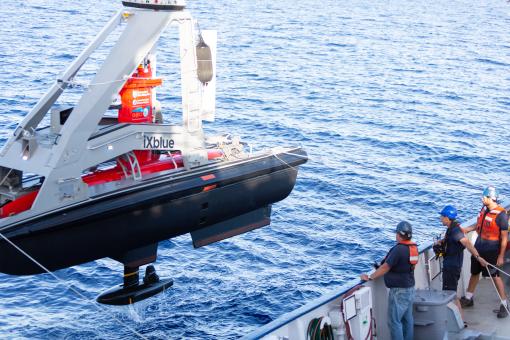 Credit
Ocean Exploration Trust
A battery-powered DriX would emit less sound, contain fewer moving parts, require less maintenance, and involve fewer technicians to maintain. If we outfitted DriX with the latest and greatest batteries, it would last about a day – versus its current four-to-five-day endurance. The energy density of batteries simply isn't there yet.
While we're waiting on the battery revolution, we can applaud the latest developments in augmented and virtual reality technology and their applications in ocean engineering.  
Allisa Dalpe, a Research Engineer at WHOI, is excited about using these systems at sea. During this expedition, Dalpe brought along a Microsoft Hololens, an untethered self-contained holographic device. 
"It's great for remote engineering, troubleshooting problems, and fixing equipment," Dalpe says. "For augmented reality, you have awareness of everything around you, plus the holograms."
Ocean engineers regularly demonstrate impressive problem-solving skills at sea, but if they encounter a problem that requires extra brainpower or outside perspective, the HoloLens technology makes the troubleshooting process more efficient. 
"It's a lot less frustrating than trying to troubleshoot through a phone call," Dalpe says. 
Using Microsoft Teams software, a shoreside team member can annotate the Hololens image from their office. 
It's not perfect, though. Not yet. 
"The next big development will be for motion compensation," Dalpe says. "Holograms don't do well with the rocking of the ship." 
While the HoloLens utilizes augmented reality, Dalpe is also excited about the possibilities that virtual reality technology will enable for exploring the seafloor. 
"We can have a scientist wear it and use it as a first-person explorer perspective," Dalpe says. "They could turn their head and say, 'let's go over there.'" 
While technological breakthroughs over the next few decades will significantly alter the dynamics of ocean research and engineering, and while fewer people will be required to spend large chunks of time at sea, humans will continue to be at the center of these operations. 
"Having people in the loop will always be critical," Littlefield says. "Exploration is ultimately a human experience."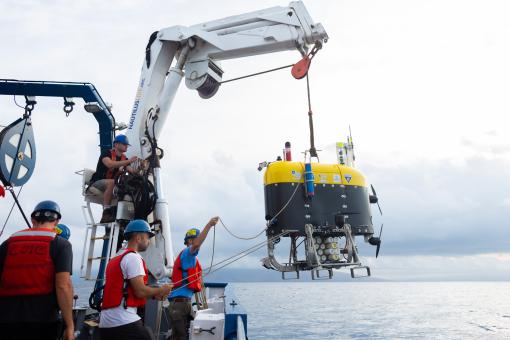 Credit
Ocean Exploration Trust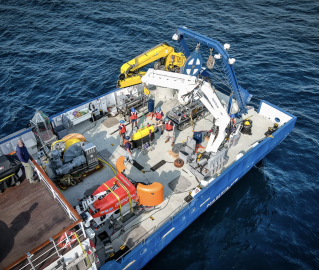 E/V Nautilus Expedition
A key objective of the NOAA Ocean Exploration Cooperative Institute (OECI) is to develop the tools and technology that enable ocean exploration activities to be conducted remotely or without human supervision.