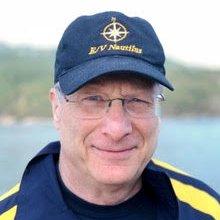 Larry Mayer
Lead Scientist
Director
School of Marine Science and Ocean Engineering & Center for Coastal and Ocean Mapping, University of New Hampshire
Larry Mayer is a Professor and Director of the Center for Coastal and Ocean Mapping (CCOM) at the University of New Hampshire. He has also just been appointed the Director of UNH's new School of Marine Science and Ocean Engineering. CCOM is a national center of excellence specializing in developing new tools and techniques for ocean mapping and data visualization.  
Larry graduated from the University of R.I. with an honors degree in Geology in 1973 and received a Ph.D. from the Scripps Institution of Oceanography in 1979.
"Humans are compelled to explore (at least some of us) -- we are drawn to shed light on the unknown. The universe is full of mysteries but we need to go no further than the 3/4 of our planet that lies beneath the depths of the oceans to face some of the greatest challenges of the unknown. Having the opportunity to contribute to such worthy endeavors is very satisfying and no matter what the outcome -- the process itself is an awful lot of fun!"
Expeditions
Larry participated in the following Ocean Exploration Trust expeditions: