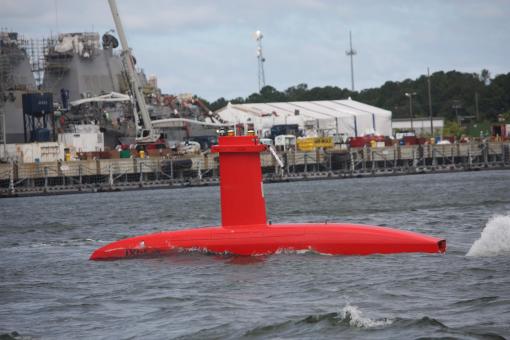 Ocean Exploration Trust
Uncrewed surface vehicle (USV) DriX provides high quality data acquisition in both shallow and deep waters. Designed by iXblue, the hybrid remote-controlled and autonomous DriX is operated by the Center for Coastal and Ocean Mapping/Joint Hydrographic Center (CCOM/JHC) at the University of New Hampshire.  As one of the partners of the Ocean Exploration Cooperative Institute, UNH with plans to deploy DriX during upcoming E/V Nautilus expeditions to the Papahānaumokuākea Marine National Monument and the Pacific Remote Islands Marine National Monument. 
Whether operating as a seafloor mapping platform or as a communication relay for supervising other underwater vehicles, DriX helps move ocean exploration towards multi-platform parallel operations, thereby greatly expanding how much can be accomplished in a single mission. With its hull made of carbon Kevlar-reinforced composite material, DriX is lightweight and can travel at high speeds without compromising stability. DriX can operate in coastal shallow waters as shallow as 4-meter depths as well as over deeper offshore due to its AUV tracking and communication capabilities via Sonardyne's USBL and acoustic modem systems.
Science & Tech
Ocean exploration is a dynamic balance of understanding science and using the best in underwater technology.
Expeditions
Get a sneak peek of where we're headed next or revisit the discoveries of our past expeditions.
Classroom Resources
OET hosts a suite of free educational materials for use in classrooms, at home, or in the community.
DriX At-A-Glance
General
7.7 m x0.8 m
2 m
4.5 tonnes (w/ UDS) 1.38 tonnes vehicle alone

4 days at 7 knots
Maximum speed 13 knots

Single fixed pitch propellor with a 38 HP diesel engine
Max speed

Launched and recovered in Universal Deployment System UDS which protects the hydrodynamic hull.
Automated Docking with LIDAR or "Moving Baseline RTK GPS" modes.
Mapping Systems
EM2040 Multibeam sonar (200-400 kHz)

5 - 500 meters water depth. This higher frequency sonar is ideal for shallow water with a smaller beam range compared with the Nautilusʻs EM302 multibeam 30kHz system. 

EK-80 Single Beam Fisheries Echosounder with 7-degree, 200kHz (and optionally 70kHz) transducers.

This sonar helps reveal dynamics of the midwater including seeing species vertical migration through the water column and can guide midwater-specialist vehicle AUV Mesobot.
Sensors:
iXblue PHINS INS
Septentrio GPS
Sonardyne HPT3000 USBL
Valeport SV Sensor in the gondola. 
Valeport SWIFT CTD with custom CTD winch (to 300 m)
cameras, optical sensors, radars and LiDARs

5 Color and 1 IR camera
Ouster LIDAR
Lowance Halo 20+ Marine radar
Class B AIS Transceiver
Communication
Drix reports itʻs location back to Nautilus by any of several telemetry radio systems. 

For hand-held remote control UHF radios within the DriX and joy-stick controller units make the link.
For mid-range (< 5km) and high-bandwidth communications Wifi makes the link. The bandwidth of this system varies with range to the DriX, reaching 300 Mbps at close ranges and just a few 10's of kbps at the most distant ranges. 
For long-range communications (10-20km) a pair of Kongsberg Marine Broadband Radios make the link. This link's bandwidth is fixed to one of several operator-selected values, with a maximum of 15 Mbps which must be allocated between the two radios. Typically 85 or 80% of the link is reserved for data coming back from DriX to Nautilus, and the remainder is provided for command and control messages from Nautilus to DriX.  

 Communications to underwater vehicles is provided by an acoustic modem which is part and parcel of the Sonardyne Ultra-Short-Base-Line underwater positioning system. This system allows sending of short, fixed-length messages and small files over the acoustic link.