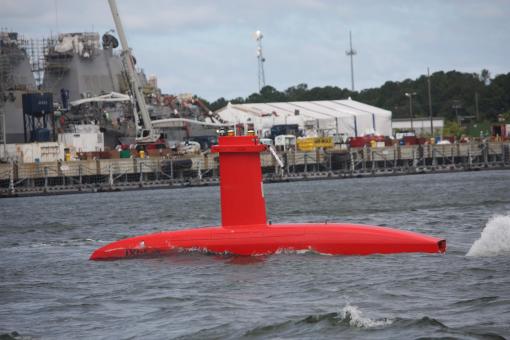 Ocean Exploration Trust
Uncrewed surface vehicle (USV) DriX provides high quality data acquisition in both shallow and deep waters. Designed by iXblue, the hybrid remote-controlled and autonomous DriX is operated by the Center for Coastal and Ocean Mapping/Joint Hydrographic Center (CCOM/JHC) at the University of New Hampshire. As one of the partners of the Ocean Exploration Cooperative Institute, UNH with plans to deploy DriX during upcoming E/V Nautilus expeditions to the Papahānaumokuākea Marine National Monument and the Pacific Remote Islands Marine National Monument.
Whether operating as a seafloor mapping platform or as a communication relay for supervising other underwater vehicles, DriX helps move ocean exploration towards multi-platform parallel operations, thereby greatly expanding how much can be accomplished in a single mission. With its hull made of carbon Kevlar-reinforced composite material, DriX is lightweight and can travel at high speeds without compromising stability. DriX can operate in coastal shallow waters as shallow as 4-meter depths as well as over deeper offshore due to its AUV tracking and communication capabilities via Sonardyne's USBL and acoustic modem systems.