Blog:
Elementary STEM Club Activity Series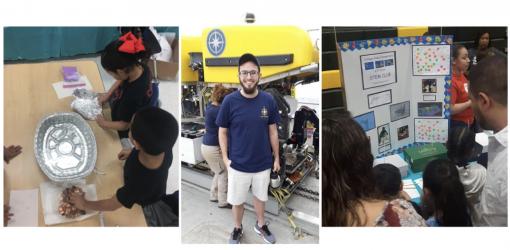 Ocean Exploration Trust
Written by Nautilus Ambassador Jason McGee, explore this series of elementary-level STEM activities to introduce young explorers to the ocean and careers at sea. 
This elementary STEM Club lesson series was written for students to to spend 10-12 meetings exploring ocean science and technology in the afterschool STEM Club setting. Lessons work well in sequence but can be pulled individually for classroom or at-home learning too. My drive was to provide exposure to the ocean and marine life for all students (regardless of personal access to the shoreline or access to at-home resources) through a compilation of videos, hands-on challenges, photographs, and children's literature. I hope you enjoy! Happy Learning!
Suggested Activity Sequence
About the Author
Hi, everyone! I'm Jason McGee, a Kindergarten teacher in southwest Louisiana. With my passion for STEM education, I have authored/edited Kindergarten, 1st, and 2nd Grade science scope and sequence for Calcasieu Parish School Board with a team of elementary educators. I teach at a Title-1 school, where focusing on exposure to content and resources is extremely important. Although we're in a coastal state, we are a fair distance from the Gulf of Mexico. My students' knowledge of the global ocean is limited. In southwest Louisiana, our knowledge of waterways consists primarily of bayous, rivers, lakes and gullies, far exceeding our knowledge of the ocean.
With a group of educators from my school, I co-founded our K-2nd STEM Club where we have discussed various elementary-focused STEM (e.g. oceanography, children's literature, the human body, etc.). In 2018-2019, I was awarded CITGO's STEM Teacher of the Year and was selected as a Nautilus Ambassador to join an expedition aboard E/V Nautilus. The experience of joining the Corps of Exploration at sea inspired me to author these grade-appropriate lessons to inspire my learners in the same way. 
Nautilus Ambassador Jason McGee hosting a live ship-to-shore interaction with his students from the Pacific Ocean.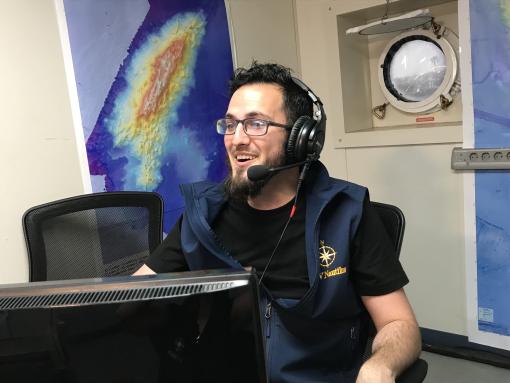 Credit
Ocean Exploration Trust