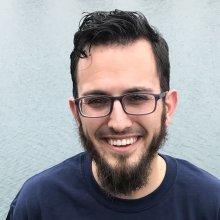 Jason McGee
Nautilus Ambassador
Teacher
Calcasieu Parish
Tell us about your work/research. What kinds of things do you do?
I am a Kindergarten teacher in Lake Charles, La. I have been teaching Early Childhood Education for the last 7 years. I enjoy writing and teaching the science plans and I add STEM education into my science plans whenever possible. Summer 2018, I was asked to be on the Science Unit Writing Team for the Kindergarten curriculum of my district. Also, I chair a K-2nd STEM Club for the students at my school.
What sparked your initial interest in your career?
I've always wanted to be a teacher. Growing up, I've always loved participating in hands-on science experiments. When I was given the opportunity, to write the science units, I tried providing as many STEM experiences as possible because I know many students learn best hands-on like me.
Who influenced you or encouraged you the most?
When I was in Kindergarten, my Kindergarten teacher asked me what I wanted to be when I grow up. I told her "I want to be a Kindergarten teacher like you!"
What element of your work/study do you think is the most fascinating?
I enjoy seeing the joy in my Kindergarten students' eyes when they successfully complete a STEM experiment. Also, I enjoy the concentration in their eyes as they attempt to complete each activity.
What other jobs led you to your current career?
In school, I was in Boy Scouts. I completed Boy Scouts ranking at Eagle Scout. Boy Scouts taught me how to lead and speak in front of groups.
What are your degrees and certifications?
I have a Bachelor in Early Childhood Education: Birth-3rd Grade (2008-12). I am currently working on my Master's Degree in Curriculum and Instruction and will be finished in 2021.
What are your hobbies?
I enjoy scary movies, painting, and cooking!
How did you get involved with the Nautilus Exploration Program?
My Principal nominated me for CITGO's STEM Teacher of the Year due to the implementation of STEM activities in my science plans, my time on the Science Unit Writing Team for the district, and my ambition to create a K-2 STEM Club for the students of my school.
What advice would you give someone who wants to have a career like yours?
I believe that students learn best hands-on. As much as possible, you must provide those students with hands-on experiences (such as STEM). They learn best because they are involved, engaged, and excited to be able to touch and talk.
Expeditions
Jason participated in the following Ocean Exploration Trust expeditions: