During September 2021, E/V Nautilus will support the testing of novel and emerging capabilities with autonomous technologies, including the hybrid remotely-operated vehicle (HROV) Mesobot. The robot was developed by Woods Hole Oceanographic Institution (WHOI) and designed to study the ocean twilight zone, or mesopelagic zone, without disrupting the environment in which it operates. Funded by NOAA Ocean Exploration through the Ocean Exploration Cooperative Institute, these technology demonstrations aboard Nautilus support the OECI's objective to increase the use and effectiveness of autonomous vehicles in ocean exploration.
While surveying in Southern California, E/V Nautilus will explore how this new technology can be used to address ecological hypotheses in the twilight zone. Mesobot will assist in taking dozens of oceanographic measurements that will be interwoven with video and photo imagery of the animals that live in the mesopelagic region, as well as track descending particles and follow rising bubbles and droplets.
Mesobot was developed by WHOI, Monterey Bay Aquarium Research Institute, Stanford University, University of Texas Rio Grande Valley, and funded by the National Science Foundation. Click through the Mesobot photo album to learn more about this novel technology and its time aboard E/V Nautilus.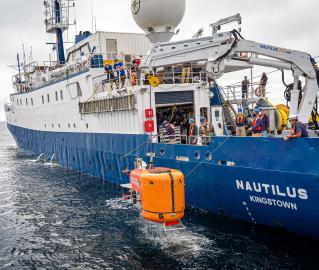 E/V Nautilus Expedition
This expedition aboard E/V Nautilus will support the testing of novel or emerging capabilities with two different autonomous underwater vehicles from Woods Hole Oceanographic Institution (WHOI).