Video:
Recovering Mesobot After a Successful Mission
Launching and recovering ocean exploration vehicles is hardly an easy task. Mechanical Engineer Eric Hayden takes us through a recovery of HROV Mesobot during some rough waters. Through perseverance, teamwork, and dedication, our Corps of Explorers make it work no matter what. 
The hybrid remotely-operated vehicle (HROV) Mesobot was developed by Woods Hole Oceanographic Institution (WHOI) with support from the Monterey Bay Aquarium Research Institute (MBARI), Stanford University, and the University of Texas Rio Grande Valley. Mesobot was designed specifically to  survey and sample the ocean twilight zone, or mesopelagic, without disrupting its surroundings. Mesobot is joining us on E/V Nautilus for our third expedition of 2022 featuring NOAA Ocean Exploration Cooperative Institute partners in a collaborative effort to test, refine, and demonstrate new technologies working together to expand our capabilities to explore the world's ocean.

Learn more about this expedition funded by NOAA Ocean Exploration via the Ocean Exploration Cooperative Institute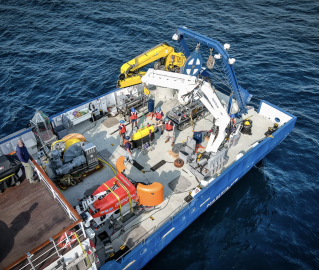 E/V Nautilus Expedition
A key objective of the NOAA Ocean Exploration Cooperative Institute (OECI) is to develop the tools and technology that enable ocean exploration activities to be conducted remotely or without human supervision.