Video:
Introducing HROV Mesobot: Midwater Maverick
We're integrating new teams and technologies with the Ocean Exploration Cooperative Institute; meet Mesobot! 
The hybrid remotely-operated vehicle (HROV) Mesobot was developed by Woods Hole Oceanographic Institution with support from the Monterey Bay Aquarium Research Institute, Stanford University, and the University of Texas Rio Grande Valley. Mesobot was designed specifically to survey and sample the ocean twilight zone, or mesopelagic, without disrupting its surroundings. Mesobot is joining us on E/V Nautilus for our third expedition of 2022 featuring NOAA Ocean Exploration Cooperative Institute partners in a collaborative effort to test, refine, and demonstrate new technologies working together to expand our capabilities to explore the world's ocean. 
Guided by data from a sensitive radiometer (tool to measure the intensity of sunlight/moonlight) Mesobot is equipped to measure even the faintest traces of light, much as a twilight zone resident is able, and to follow isolumes–layers of constant light level–in order to mimic the behavior of those animals that migrate according light reaching the depths. To learn more about the diverse and poorly known life in this ocean layer, Mesobot also carries a sampler that pumps large volumes of seawater through filters to collect environmental DNA, or eDNA, to detect the genetic signatures that animals leave in the water. By analyzing these filters, biologists will be able to tell who recently floated or swam through the twilight zone and how they are moving within a single dayʻs migration.
Learn more about this expedition funded by NOAA Ocean Exploration via the Ocean Exploration Cooperative Institute.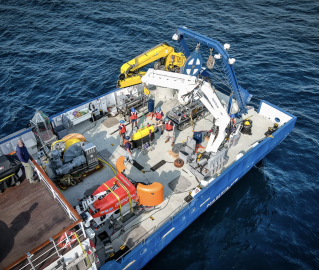 E/V Nautilus Expedition
A key objective of the NOAA Ocean Exploration Cooperative Institute (OECI) is to develop the tools and technology that enable ocean exploration activities to be conducted remotely or without human supervision.