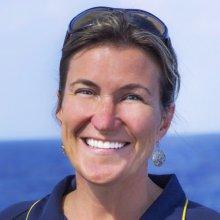 Nell Herrmann
Science Communication Fellow
Science Teacher
Blue Hill Consolidated School
Nell Herrmann is a middle school science teacher at the Blue Hill Consolidated School in Blue Hill, Maine. She has been teaching science for 15 years, always striving to convince her students that science is both interesting and accessible. Nell has a background in conservation and wildlife biology and has always been fascinated by ocean exploration. Nell has worked as an on-board naturalist, teaching children and the general public about the ecology of coastal Maine for 6 summers. She has also participated in conservation research in Costa Rica, Venezuela, Antarctica and Greenland. 
Nell Herrmann graduated from the University of Pennsylvania in 1994 with a BA in Ecology. She completed an MA in Conservation Biology at the University of Pennsylvania in 1995 and an MS in Wildlife and Fisheries Science at The Pennsylvania State University in 1997.
"My fascination with the ocean began, as a small child, when I fell in love with my grandmother's seashell collection. Since then I have been motivated to study and understand the ocean- there is so much to explore and learn!"
Expeditions
Nell participated in the following Ocean Exploration Trust expeditions: