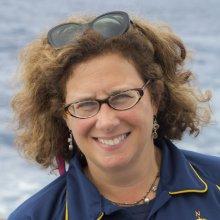 Karen Romano Young
Science Communication Fellow
Writer / Artist
Karen Romano Young is a writer, illustrator, and a deep sea diver. She is the author of more than two dozen books for children, including the acclaimed titles:
• Doodlebug: A Novel in Doodles
• Try This! and the forthcoming Try This Extreme!
• Across the Wide Ocean
• The Beetle and Me: A Love Story
• Small Worlds: Maps and Mapmakers
Karen's science comic Humanimal Doodles appears regularly in Odyssey and Muse magazines, and around the internet. Her work in education and outreach has taken her to museums and aquariums around the country, to the Pacific and Arctic oceans aboard the Extreme and ICESCAPE missions, to the East Pacific Rise as an Alvin explorer, and now aboard Nautilus. Karen was a Science Communications Fellow aboard the Windward Passage leg of the Nautilus 2014 expedition, and returned as a lead SCF for an expedition off the coast of Southern California in 2015. 
Karen Romano Young received her B.S. in Education from Syracuse University (go Orange!) and has studied illustration at the School of Visual Arts and Pratt Institute in New York City. 
"Our bodies have salt water flowing through them. We are of the ocean, and we can't exist without it. The adventure aboard Nautilus is an enormous opportunity to inspire others with new understanding of our beautiful, vital ocean." 
Expeditions
Karen participated in the following Ocean Exploration Trust expeditions: