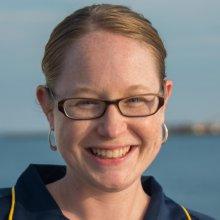 Stephanie Stoeffler
Science Communication Fellow
Instructor
The Florida Aquarium
Stephanie is a informal science educator with The Florida Aquarium. She works closely with the Tampa Bay community teaching a variety of environmental programs to students including home school groups, boy and girl scouts, and campers. Stephanie's work encompasses caring for a living collection of aquatic and terrestrial animals and integrating science and education. Her background in marine science and her interest in sharing knowledge has lead to her role as a instructor with a focus on the Jr. Educator Program for high school students. 
Stephanie Stoeffler graduated from The University of Tampa in 2007 with a degree in marine science.
"Curiosity leads to discovery. My childhood dream was to be like Dr. Ballard, yes I knew who he was when I was young. I'm excited to be a modern explorer with the Nautilus corps and I can't wait to inspire others to be ocean exploration advocates; you never know what will be discovered next!"
Expeditions
Stephanie participated in the following Ocean Exploration Trust expeditions: