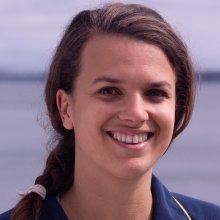 Isabella Marill
Science Communication Fellow
Science Teacher
University of California, Santa Barbara
Tell us about your work/research. What kinds of things do you do?
I am starting my career as a science teacher. I am currently teaching biology and working to make sure my students are using hands-on inquiry to discover how the natural world around them works.
What sparked your initial interest in your career?
Working with students on Catalina Island and seeing how excited they got about seeing what was under the ocean sparked my interest in becoming a biology teacher.
Who influenced you or encouraged you the most?
My mother encouraged me the most to follow my passion for marine science from a young age. I was most influenced as a science teacher by my fellow colleagues and Program director, Jeff Chace, of the Catalina Island Marine Institute. Working with this team for three years taught me how to develop engaging and meaningful science lessons for students.
What element of your work/study do you think is the most fascinating?
I love helping my students connect what we are learning to the world around them. We are currently working on a project where students are picking an environmental problem, learning about it in depth, and brainstorming solutions. It has been so great to see how creative they can be!
What other jobs led you to your current career?
After college, I worked for three years as a marine science instructor at a remote science camp on Catalina Island called the Catalina Island Marine Institute. Here, I taught kids about marine science, took them snorkeling (sometimes we even went snorkeling at night to see bioluminescence!), hiking, and kayaking. I earned my graduate degree in environmental science and management. My thesis work centered around supporting the Gray's Reef NOAA National Marine Sanctuary in computer modeling different conservation priorities to inform their management. During graduate school, I also worked with an organization called the Environmental Defense Center in Santa Barbara, CA. With this organization, I supported their advocacy work to find creative ways to lessen the number of ship strikes on endangered whales in the Santa Barbara Channel. These experiences helped me build my knowledge and passion for solving environmental problems and engaging the next generation in environmental issues.
What are your degrees and certifications?
Bachelor of Science in Aquatic and Fishery Sciences- University of Washington 2011
Masters of Environmental Science and Management- Bren School, University of California Santa Barbara 2017
Masters of Education- University of California Santa Barbara 2018
What are your hobbies?
I love to be in the ocean, especially on SCUBA. I also love to travel and try new foods.
What advice would you give someone who wants to have a career like yours?
If you want to be a science teacher (especially a biology teacher), take lots of science classes in college, and take every opportunity to travel and be outdoors to inspire your future lessons!
How did you get involved with the Nautilus Exploration Program? How did you get on the ship?
I applied for the Science Communications Fellowship after hearing from Nautilus alumni what a life-changing experience it was.