Blog:
Filling in the Bathymetric Gaps of Papahānaumokuākea Marine National Monument

Ocean Exploration Trust
This blog was written by OET Digital Media Specialist Jamie Zaccaria.
For our last mapping-focused expedition of 2022, we're returning to Papahānaumokuākea Marine National Monument (PMNM) for 25 days of ship-based mapping surveys. This expedition, funded by NOAA Ocean Exploration via the Ocean Exploration Cooperative Institute, will help us fill in some gaps in regional bathymetric data, an important contribution to US Exclusive Economic Zone (USEEZ) maps. Additionally, this expedition will focus on areas prioritized by the NOAA mapping strategy and contribute to the National Ocean Mapping, Exploration, and Characterization Council (NOMEC) and GEBCO Seabed 2030 seafloor mapping priorities. 
Located approximately 4,000 km from the coasts of California and Japan lies a chain of islands, submerged banks, and seamounts known as the Northwestern Hawaiian Islands, which represent the northwestern three-quarters of the oldest, longest, and most remote island chain on Earth. Data acquired on this expedition will equip resource managers with a better understanding of the formation of these islands and adjacent seamount chains, map habitats protected within the monument, and assist in the national and international priority to build high-resolution seafloor maps, especially in areas needing protection.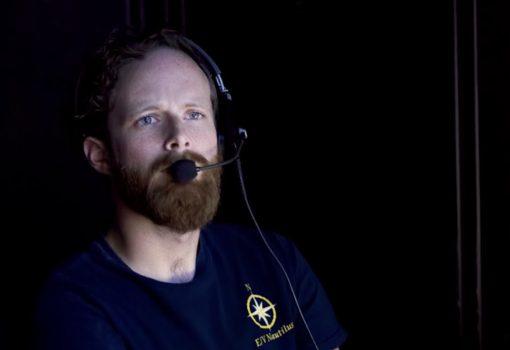 "Anytime we're mapping an unmapped region of seafloor is exciting because it provides the opportunity to have a base map for future expeditions and to know what's in an area," says Expedition Leader Renato Kane. "We've mapped different areas of this chain on a previous expedition and hope to expand coverage of those maps to have a more complete picture of the area around this remote seamount chain. We're especially curious to see how the data we collect differs from existing bathymetry derived from satellite altimetry."
When planning a cruise to map such a large area, crew must create backup plans to account for the weather. Large weather systems common in the Pacific Ocean can force the ship to change course, which is why there are multiple (prioritized) areas for mapping. Another force of nature that may dictate how and where we map is ocean swell. Sometimes when faced into swell, bubbles gather under the ship's hull and interfere with the sonar, causing data dropouts. It takes careful calculation of weather, speed, and direction to make this kind of deep water mapping possible. As Expedition Leader, Kane will work closely with the Captain and the Mapping Coordinator to ensure the safest conditions for both the ship and those onboard.
When asked what excites him most about this region, Kane replied, "How remote it is…We don't often get to go into the northwestern Hawaiian Islands given the protected status of the Monument. It's always exciting and significant to be in these areas and help fill in the gaps." He goes on to share that he's been sailing in the region since 2018 and during the tail end of this expedition will pass part of a seamount chain E/V Nautilus and team dove on back then, before he earned the title of "Expedition Leader." This full-circle experience just makes the expedition that much more special.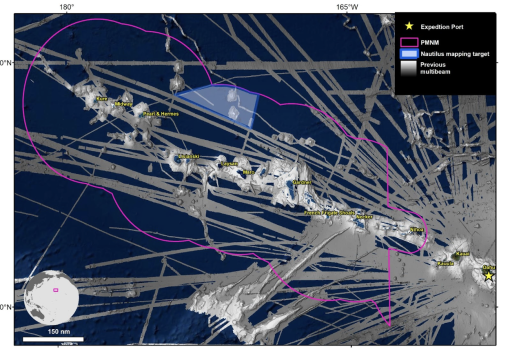 Join the Corps of Exploration as we continue to shine a light on some of the deepest and most remote parts of the Central Pacific. Stay tuned for more updates!
As we visit Papahānaumokuākea, the ancestral homeland of the Native Hawaiian people and the largest marine conservation area in the US, we gratefully acknowledge generations of indigenous Hawaiians and today's stewards of these waters. The expedition name Luʻuaeaahikiikapāpahākuʻiwawā was carefully crafted to represent the continued efforts to map and understand the papa (seafloor) in concert with members of the PMNM Cultural Working Group Nomenclature Subcommittee and team members of OET, as a continuation of the oli (chant) originated for expeditions in 2021.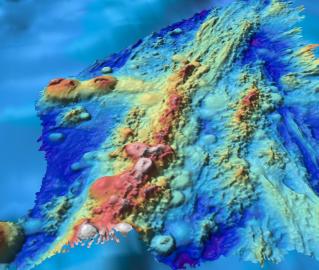 E/V Nautilus Expedition
This expedition focuses on high-resolution mapping areas of deep waters in the northern extent of Papahānaumokuākea Marine National Monument (PMNM) using ship-based mapping surveys.