Blog:
From STEM to STEAM: Art Aboard Nautilus

Rebecca Rutstein
The Ocean Exploration Trust's Artist at Sea program invites artists aboard E/V Nautilus to foster creative conversation and collaboration around curiosity-based exploration with Science Communication Fellows and the entire Corps of Exploration. Drawing inspiration from their time at sea, artists share their experiences with new audiences and support the Ocean Exploration Trust in integrating arts into outreach programs and shaping STEM education into STE[A]M education. 
Since 2014, E/V Nautilus has hosted several artists, each with a unique approach to sharing life at sea and oceanographic exploration. Meet the artists and learn more about their paths to Nautilus, and their creative processes and experiences while aboard. Learn more about our at-sea opportunities. 
Rebecca Rutstein
Rebecca Rutstein creates large scale abstractions inspired by geology, mappings and the undercurrents that shape our world. Seeking out geologically dynamic environments, Rebecca sailed aboard Nautilus in 2015 as an Artist at Sea to explore seafloor mapping on a transit from the Galapagos Islands to San Diego. Painting while aboard Nautilus, Rebecca utilized the back-and-forth rocking of the ship to disburse her paints and overlaying those organic backgrounds with intricate multibeam sonar seafloor maps. Watch her painting technique in this short video from our ship's wet lab--and temporary art studio! 

Lily Simonson
Lily Simonson is an artist who frequently embeds in research expeditions in order to directly observe the otherworldly landscapes and critters from remote areas. She creates immersive large-scale paintings of these habitats to share new research and transport viewers to worlds they might never experience firsthand. Lily sailed aboard Nautilus exploring submarine volcano Kick 'em Jenny in the Caribbean Sea in 2014 as an Artist at Sea, and again in 2017 as part of the science and communications team testing deep sea lander systems off Central California.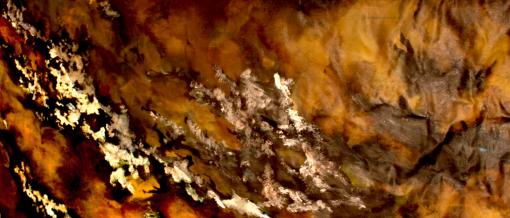 Karen Romano Young
Karen Romano Young is a writer and illustrator whose work often focuses on ocean science. She is the author of more than two dozen books for children, and her Humanimal Doodles comic appears regularly in Odyssey, the science magazine for kids. Karen was a Science Communications Fellow aboard the Windward Passage leg of the Nautilus 2014 expedition, and returned as a Lead SCF and Artist at Sea for an expedition off the coast of Southern California in 2015, sending comics back to shore to tell the story of her journey. Read more of Karen's Nautilus comics and watch her sketching process as she creates a doodle of ROV Hercules.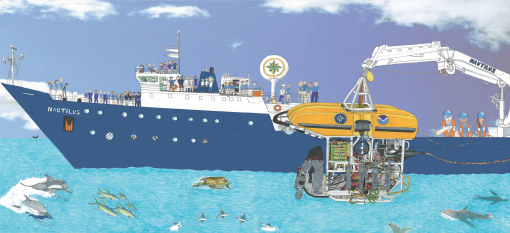 Credit
Karen Romano Young