Video:
Artist Paints with Ship's Motion and Multibeam Maps
Artist at Sea Rebecca Rutstein creates beautiful paintings using the back-and-forth rocking of E/V Nautilus to disburse her paints and overlaying those organic backgrounds with intricate multibeam sonar seafloor maps.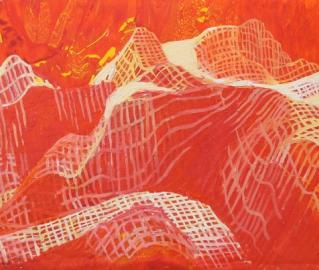 Expedition
For this leg of the expedition we will transit from Baltra to an area 1000 nm west of Colima, Mexico to international waters, where there are two sites of interest for seafloor mapping. E/V Nautilus will use its hull-mounted multibeam echosounder to survey each site and create a map to show the acoustically-derived bathymetry of the area.