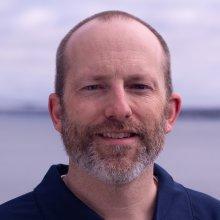 Marty Momsen
Science Communication Fellow
High School Teacher
Houston Public Schools
Tell us about your work/research. What kinds of things do you do?
I enjoy making learning an adventure. Whether you are climbing to the top of a mountain or exploring an anthill in your backyard, there is always something to learn. Imbuing my students with the curiosity of science and giving them the tools to become science literate is my passion. I currently partner with Quail Forever, the Mayo Graduate School, and Hormel Foods to give students real-world, immersive experiences that help them to learn that science is not only fun but can turn into a rewarding career.
What sparked your initial interest in your career?
When I was younger, I was involved with Boy Scouts. I began to enjoy camping, hiking, and all aspects of survival. I particularly enjoyed the naturalist part of Scouts and the experience really laid the foundation for me to become a Biology teacher. I also had fun working with younger scouts to help them advance through the ranks and become leaders of their patrols. I felt like I always had great teachers and adults in my life so I aspired to emulate them.  
Who influenced you or encouraged you the most?
A college professor, Brother Craig Franz, really demonstrated the excellence and attention to detail that is required of scientists in the field and lab. He applied himself assiduously to every task and it made me a better student and teacher. He taught me that good things happen when you work hard, take risks, and put yourself out there.
What element of your work/study do you think is the most fascinating?
The most fascinating thing that I have done lately is to teach my son how to fish for trout. I took him to one of my favorite spots, which is supposed to be among the best streams in the country. It was gratifying to share a skill that I picked up in my twenties with my nine year old. You could definitely say that he is "hooked".
What other jobs led you to your current career?
I have had a plethora of jobs during my career. I worked summers in college as a trackman for the Chicago and Northwestern Railroad, as a technician filling ink bags for printers, and as a Senate Intern for Paul Wellstone. Upon graduation from college I was a volunteer teacher and coach at a small school in Greenville, MS. Subsequently, I became an Environmental Consultant responding to and remediating all manner of hazardous materials spills in the upper midwest. I have now been a teacher for twenty years and constantly pursue new ways to perfect my craft and especially research opportunities in the summer. I most enjoy writing about my experiences and giving science lectures to my local community.
What are your degrees and certifications?
I have a Bachelors of Science in Environmental Biology and Masters of Arts in Instruction from Saint Mary's University of MN.  
What are your hobbies?
I'm a true science geek. I love anything and everything science. Currently, I am working on getting my physics endorsement. I just learned how to curl last year and have taken up the guitar. I enjoy backpacking, camping, hiking, fishing, and motorcycling.  
What advice would you give someone who wants to have a career like yours?
I advise my students to try as many things as they can. If you find that you are passionate about something then immerse yourself in it. There is nothing more fulfilling to love what you do. If you've found something to apply yourself to and it really doesn't seem like work than you are on the right track.
How did you get involved with the Nautilus Exploration Program? How did you get on the ship?
I found out about Ocean Exploration Trust while reading through the National Science Teachers Association monthly publication NSTA Reports. I applied to be an Educator-at-Sea in 20121and was fortunate enough to be chosen.
Expeditions
Marty participated in the following Ocean Exploration Trust expeditions: