Blog:
Diving Back in Time on Hawai'is Underwater Wreckage Sites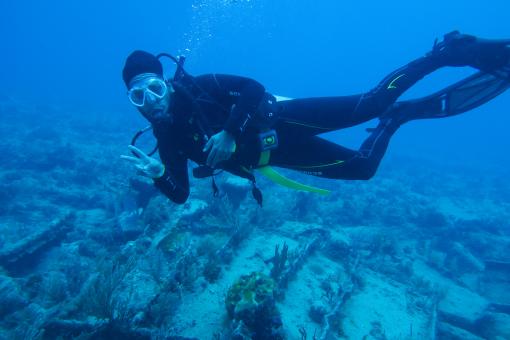 Ayana Flewellen
This blog was written by Sruthi Gurudev, Storyteller for the National Geographic Societies Marine Heritage Team. 
Off the verdant coasts of the Hawaiian islands of Lānaʻi and Maui, sunken relics left behind by World War II lie undisturbed at the bottom of the ocean. By piecing together the story of these underwater wreckage sites, we are afforded a rare glimpse back into time. Such is the wonder of maritime heritage, where submerged material artifacts can allow us to reconstruct the conditions of the past. Working aboard E/V Nautilus allows us to both conduct our research while based at sea and also share it live with a wide audience on shore. The scientific and technological capabilities of the ship allow our teams to collect the data we need to bring back to the public. 
If we live in the present, why should we care about the past? The Marine Heritage Expedition Team, which includes Dr. Justin Dunnvant, Dr. Jenny Adler, Sruthi Gurudev, Ashleigh Glickley, Dr. Jason Raupp, and PhD student Dominic Bush, are setting out to explore this very question. The Marine Heritage team will document submerged cultural heritage sites (i.e. historic shipwrecks, plane wrecks, aircrafts, whalers) around the Hawaiian Islands using the latest 3D photogrammetry technology. 
Since land-based sites— war museums, relics, and ruins— are more accessible, it is easier to examine their history and understand their importance. However, we cannot ignore the trove of knowledge in these remote underwater wrecks too. This project's impact provides new access to maritime heritage sites that few people can visit. It also provides a scientific assessment of sites potentially threatened by climate change. This research is valuable to fully contextualize our time and position in today's world.
The primary technology our team will use is photogrammetry, a technique used to create 3D virtual recreations of key heritage sites. Team member Dominic Bush explains how photogrammetry will also assist archaeologists and other site managers with understanding how a site physically changes over time.
"The models created during this project will be the first of their kind for the area, and serve as a baseline. Future photogrammetric surveys of the same sites can be compared with our 3D models to determine where a site might be weak or experiencing heightened corrosion," he says. "By knowing the physical condition of a wreck, more informed and effective site management plans can be instituted." 
During these dives, we'll also see how the ocean has reclaimed some of these wrecks (corals, algae and other reef creatures now flourish in their nooks and crannies), and how seawater and time have altered the vesselsʻ appearance. We'll even photograph a plane's fuselage, which might boast colorful coral growth and perhaps even house marine animals.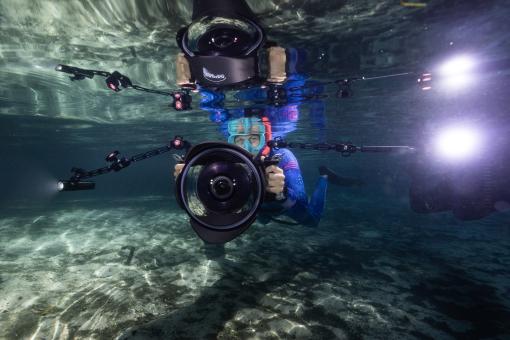 On this voyage, Dr. Jenny Adler will use underwater and 360° cameras to capture video and photographs of the submerged sites as well as the scientists conducting the fieldwork. In Maui, we plan to focus on sites in Māʻalaea and Makena Bay, where WWII era wrecks, notably a F6F-3 Hellcat and a SB2C-1C Helldiver aircraft were sunk during military training.
Jenny will draw from her extensive experience photographing and filming underwater in remote locations from French Polynesia to Iceland. She will also document life aboard the ship and the behind the scenes moments between the dives.
"Besides documenting the science happening during our field work, photos and videos can help people understand what it's like to be on an expedition and what it takes behind the scenes to make a project like this happen," says Adler. "Where are we living and sleeping? What are we eating? What is life like aboard the Nautilus? My work helps to tell the story behind the data and can help people feel like they're on the expedition with us."
Throughout the expedition, team members from National Geographic Society and Ocean Exploration Trust will share imagery, behind-the-scenes updates, and stories with learners in Hawaiʻi and around the world. Post-expedition, photogrammetric models will be rendered at Eastern Carolina University. The photographs will be color-corrected, lens-distortion corrected and imported into Agisoft Metashape software to render them into 3D images and shared on NautilusLive.org. 
The goal of the research is to support a multidimensional understanding of the connection between culture, history, conservation, and science, showing that the human element is integral to the uniqueness of Hawaiʻi's underwater heritage. Overall, we hope that the project will serve as a model for future marine heritage work that may occur within Hawaiian waters and beyond. 
"This work is important to understand the natural threats against underwater sites. It is a part of the larger movement within archaeology to choose in situ preservation ('leave it where it is')," says Bush. "By doing so, more people are able to visit and dive on sites, as I did growing up. I hope to pursue a career as an archaeologist tasked with protecting our shared underwater maritime heritage." 
Stay tuned for more updates about this From Shore to the Abyss partnership program project with Ocean Exploration Trust and the National Geographic Society!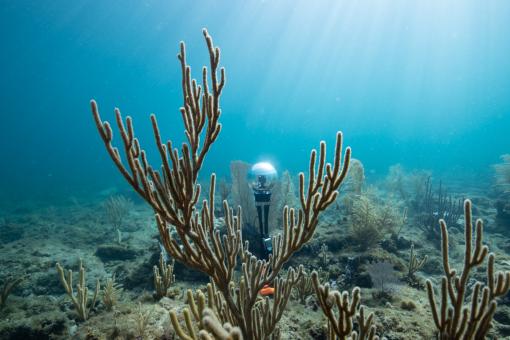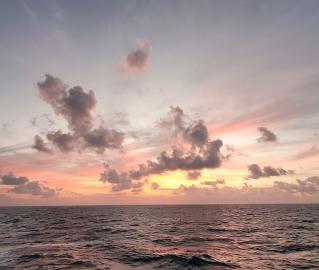 E/V Nautilus Expedition
Our third From Shore to the Abyss expedition finds OET and National Geographic Society investigating maritime cultural heritage and plastic pollution in the waters around Lānaʻi and Maui. Both project teams will investigate evidence left behind by humans to better understand what happened in the past, as well as what this means for the future. Projects focus on the intersection of human actions and the ocean environment to inform policy and management of this ecosystem.