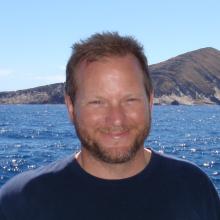 Jason Raupp
He/Him
Science Team Member, Maritime Heritage Project
Assistant Professor
East Carolina University
Tell us about your work/research. What kinds of things do you do?
I am a maritime archaeologist interested in culture change and adaptation through technological and organizational innovation. My primary research focuses on the ways in which standardization of industrial practices and technologies affected the operations of early American fisheries. Other areas of specialization include World War II battlescapes in the Pacific region; the value of citizen science and public engagement to archaeological research; and digital imaging of archaeological sites.
What sparked your initial interest in your career?
I studied anthropology as an undergraduate due to an interest in learning about cultures other than my own. I was fortunate to work in a small museum and adjacent archaeological laboratory while in college, which helped me to understand the need to research, preserve, and interpret the remains of past societies. While working as a professional archaeologist after college, I grew increasingly interested in the fishing communities and various types of watercraft used in so many of the coastal towns I visited. Soon after I moved to Florida to attend graduate school and study maritime archaeology. That move was a starting point for a career that has since allowed me to investigate the remains of submerged ships, aircraft, amphibious vehicles, and maritime infrastructure all over the world.
What element of your work/study is the most fascinating?
I have been very fortunate to participate in so many great projects with excellent colleagues, but the best part of my job is working with communities and exploring new places
What other jobs or skills led you to your current position?
I've been fortunate to have several jobs that provided me with skills that have been useful in my career - everything from learning about small engines through
What are your degrees and certifications?
Northwestern State University, Natchitoches, Louisiana: B.A. Anthropology, 1997; University of West Florida, Pensacola, Florida: M.A. History/Historical Archaeology, 2004; Flinders University, Adelaide, South Australia: Ph.D. Archaeology, 2015; NAUI Scuba Diving Instructor; D.A.N. Diving Emergency Management Provider
What are your hobbies?
I love spending time, traveling, and fishing with my wife and son.
What advice would you give someone who wants to have a career like yours?
To succeed in maritime archaeology it is very important to gain as much practical experience as possible through volunteer opportunities. Whether you are giving your time to help a local museum or screening dirt at an excavation site, the experience you will gain will be invaluable and help you to better understand the discipline. Also, given that so much of what we do requires SCUBA and other diving technologies, the more diving experience you can get prior to beginning (and during) your education the better!
Expeditions
Jason participated in the following Ocean Exploration Trust expeditions: