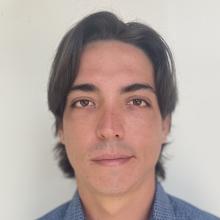 Dominic Bush
Science Team Member, Maritime Heritage Project
PhD Candidate
East Carolina University
Tell us about your work/research. What kinds of things do you do?
I am a maritime archaeologist who specializes in the management of underwater cultural heritage sites. I primarily focus on understanding how corrosive processes affect the preservation of submerged archaeological sites, especially those from the Second World War. In addition to corrosion, my research centers on marine salvage law and improving public interpretations of underwater sites. I am particularly interested in sites from my home state of Hawaii. Recently, I have expanded my core research area to Alaska, largely due to my Native Alaskan (Sugpiaq) family heritage. Though Hawaii and Alaska are my main geographical interests, I have been fortunate enough to work on archaeological projects from around the world, including Ireland, Guatemala, the Marianas Islands, the Philippines, and most recently, Turkey.
What sparked your initial interest in your career?
My interest in maritime archaeology stems from my upbringing in Hawaii, where I have always been an avid snorkeler and diver. This, combined with an innate fascination with history, has led me to have a lifelong goal of becoming a maritime archaeologist. I am blessed to have worked with teachers and professors who have supported this goal, all the while being encouraged by my parents to pursue this career.
What element of your work/study is the most fascinating?
I truly believe that every archaeological project I have been on has its own unique elements that make the work fascinating. Whether it was excavating a medieval village in Ireland or diving on World War II aircraft off the coast of Hawaii, each project presents interesting research questions that can only be answered by examining the physical remains of history. Of course, the people I have worked with have only enhanced the experiences and I can now call dozens of colleagues from around the world friends.
What other jobs or skills led you to your current position?
My dream of being a maritime archaeologist existed well before I ever knew the word "maritime". As a boy I knew I wanted to be the one exploring the depths of the ocean in search of past human activities. Of course, as I advanced down this career path I have learned a wide array of skills that can be used in archaeology, including, but not limited to: remote sensing, microbiological methods, stable isotope analysis, artifact conservation, scientific scuba diving, and electrochemical testing.
What are your degrees and certifications?
Bachelor of Arts in Anthropology (Honors Track) — University of Notre Dame 2016; Masters of Arts in Anthropology (Archaeology Focus) — Washington State University 2018; Doctorate of Philosophy in Cultural Resource Management East Carolina University (in progress); Advanced Open Water Diver, Nitrox Certified Diver, Scientific Diver
What are your hobbies?
I'm addition to scuba diving, I am an avid free diver who spears fishes. When I'm not under the water, I like to be on top of the ocean via surfing and kayaking.
What advice would you give someone who wants to have a career like yours?
The best advice I could give for someone wanting to become an archaeologist, whether it's maritime or terrestrial, is to seek out as many different opportunities as possible. Go on that international field project. Volunteer for the lab internship. Work in the archives. Every experience will lead to gaining valuable skills and meeting great people who will help you advance as an archaeologist. I'd also say to not be afraid of reaching out to people who have established themselves in the field, even if you don't have a personal relationship with that person. Most will be willing to help and you never know where a cold email or phone call will land you.
Expeditions
Dominic participated in the following Ocean Exploration Trust expeditions: