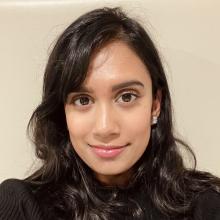 Sruthi Gurudev
Storytelling Team Member, Maritime Heritage Project
Editor in Chief of "An Hour in the Deep" E-Magazine
National Geographic Society
What is your history of engagement with the National Geographic Society?
I am a National Geographic Young Explorer (Class of 2020)
Tell us about your work/research. What kinds of things do you do?
I am the Editor-in-Chief of the youth-led digital magazine "An Hour in the Deep." The e-magazine engages young people (aged 16-26) in eco-journalism and promotes a multidimensional understanding of ocean solutions. I publish articles and other writing in five subsections: Ocean Solutions: Future, Ocean Science, Ocean Conservation, Ocean Storytelling, and Spotlight. I also showcase art, photography, videography, and other creative projects from contributors.

The magazine has "spotlight" interviews with youth and adult ocean advocates from various fields (e.g. science, journalism, tech, or exploration.) The objective is to provide a realistic and demystified view of ocean careers. By including a near-peer and an adult, youth readers will gain insights on how they can go on their own journeys in this field.

A big priority of mine is to be hands-on with young journalists throughout the entire process. Contributors plan and flesh out their ideas with us, and then once an article is written, the team edits publishes and promotes the work on social media. If the contributor chooses not to write, I work with them on their preferred type of multimedia and adapt it to the website. Editions have a wide range- from a video series taken in the Maldives, a podcast interview about glacier exploration, to articles written about the Greenland Shark.

Ultimately, the goal is to celebrate the diverse experiences young people have with the ocean, wherever they are in the world. "An Hour in the Deep" is forward-looking in its research and seeks to empower youth through eco-journalism. We're driven by marine innovation, renewed environmental policy, and a need for diversity in ocean conservation spaces.
What sparked your initial interest in your career?
My origin story starts during a fateful visit to the Great Barrier Reef in Cairns, Australia. I expected to go there and see vibrant coral reefs underwater, but instead I saw that the corals were bone white, devastated from a bleaching event. I was floored, thinking it was akin to confronting climate change "face to face." Long after I returned to the surface, I felt plagued by what I'd seen underwater. If "an hour in the deep" was enough to move me so profoundly, I knew that I had to let others know about it. After that experience, I felt an intensified urgency to protect the ocean, and the inspiration for the e-magazine was born.
What element of your work/study is the most fascinating?
There are a couple of aspects of my work I find most fascinating. The first and most intuitive element is the physical act of being underwater. The weightlessness of a dive, gliding alongside coral formations while sunlight illuminates the reef- it feels almost poetic. I love the way schools of fish suddenly turn directions, scales flashing, how an octopus pulses in the sand, or how a moray eel seems to smile at me while I explore a wreck. Memories made underwater are very special to me, and it inspires my writing. When it comes to the e-magazine, I find the "Ocean Solutions of the Future" subsection especially interesting due to the futuristic element of the research. I love learning about nascent ocean technologies. For example, I read about the development of "Mesobot" which is a hybrid robot made to study life in the ocean twilight zone. It slowly follows individual animals in hard-to-reach parts of the ocean while making measurements and collecting information. I hope the young people that read about such innovations in the magazine eventually go on to innovate themselves. That's what makes me hopeful for the future.
What other jobs or skills led you to your current position?
Funnily enough, I started off in a world far away from anything ocean related. My undergraduate degree was in finance, and after graduating I began working in the industry. During that time, my passion for eco-journalism and the oceans was rapidly developing. I knew I was a writer at heart and was determined to find a way back to it. I became a Global Goals Ambassador for Life Underwater, and then a National Geographic Young Explorer. By day, I worked in finance. By night, I was developing my e-magazine, "An Hour in the Deep."
At first, I didn't consider my background in business advantage. Now, however, I realize that it has allowed me to be more engaging, comfortable with public speaking, and able to understand environmental issues from nuanced financial angles. Apart from my professional journey, I have also been lucky enough to be a part of great organizations and nonprofits such as the Reserva Youth Council, The Out of Eden Walk, National Geographic Society, and World Oceans Day. Getting involved with these organizations not only led me to create many lasting relationships, it also led to my part time job as a social media manager. I've learned to carefully deliberate my words, communicate clearly, and use language in creative ways. All of this helps improve my writing. Today, I am actively working on a career pivot to work in the eco-journalism and ocean conservation space full time.
What are your degrees and certifications?
Bachelor of Science in Finance - University of Illinois Chicago, 2019
What are your hobbies?
I love French synth-pop music, scuba diving, and delving into visual anthropology. Most of all, I love wandering. My ideal day would be spent in a dense cityscape or deep in nature, discovering hidden things that I wouldn't catch on a normal visit. Exploring forever, that's what makes me feel alive!
What advice would you give someone who wants to have a career like yours?
"Find your niche!" I say that a lot, because it's what worked for me. I started off in a completely unrelated field (finance), but I used my passion for reading and writing to find a way to contribute in ocean conservation by creating an e-magazine. That was my "way in," so to speak.
In the environmental world, there is room for everybody at the table. Find your skills and apply them where possible. Even if you start off in a different profession, try to use what you know to carve out a niche. For example, if you're an engineer, see if you can develop an idea for an ocean solution. If you're an artist, paint a mural in your community to raise awareness. If you don't know how to apply your skills for the cause, try to find some like-minded peers. You will gain a lot of wisdom from these friendships, and will inevitably find a way forward.
Expeditions
Sruthi participated in the following Ocean Exploration Trust expeditions: