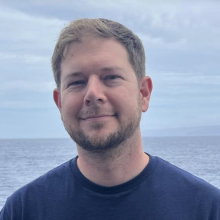 Robin Littlefield
Science/Data Team
Research Engineer
Woods Hole Oceanographic Institution
Tell us about your work/research. What kinds of things do you do?
I specialize in the development of new ways to explore and understand the ocean. My background is in mechanical engineering and Autonomous Underwater Vehicle design. My goal at WHOI is to extend the reach of scientific understanding through the development of new systems and methods for use in undersea applications.
What sparked your initial interest in your career?
I have always been interested in understanding how things work, which made engineering a natural choice. Being able to couple curiosity with ocean exploration makes Woods Hole a uniquely satisfying place to live and work and that proximity to the ocean is what drew me into the field of ocean science and engineering.
Who influenced you or encouraged you the most?
Thanks to my parents, I spent my childhood around a myriad of interesting engineering projects. I also grew up doing a great deal of exploring, often in boats, and WHOI has afforded me the opportunity to make a career out of the same type of creative and adventurous endeavors I grew up on.
What element of your work/study do you think is the most fascinating?
From developing hardware for tracking marine animals with AUVs to surveying ancient shipwrecks to searching for downed airplanes, working at WHOI seems to present endless challenges and adventures. I find it most inspiring when our work has a direct impact on policy and the management of resources.
What other jobs led you to your current career?
From working at boatyards to starting a marine robotics company, there has been a consistent maritime theme throughout my career.
What are your degrees and certifications?
University of New Hampshire, Durham, New Hampshire
Bachelor of Mechanical Engineering, December 2007
 
What are your hobbies?
My favorite hobbies include exploring the local islands off Cape Cod with my dog, Grouper.
What advice would you give someone who wants to have a career like yours?
Tell people what you are passionate about. As you strike up conversations with people you'll find a shared interest, direction, and contacts that will open the doors to your future career.
Expeditions
Robin participated in the following Ocean Exploration Trust expeditions: