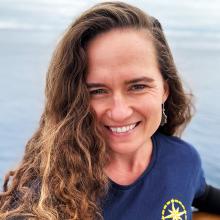 Marley Parker
She/Her
Communication Lead
Photographer/Videographer
ML Parker Media
Tell us about your work/research. What kinds of things do you do?
I am a photographer, videographer, and science writer. I specialize in helping scientists and research institutions produce stories about their efforts to explore and conserve the wonders of our natural world. Much of my work revolves around going to sea and documenting oceanographic research expeditions. 
What sparked your initial interest in your career?
I chose to major in Journalism in college because I have always enjoyed documenting the world around me, whether through writing or photography. While I was in journalism school, I took a few video classes, which proved invaluable when it came time to find a job after college. Looking back, it seems a bit inevitable that a life-long love of storytelling coupled with a keen "adventurous spirit" would lead me to the intersection of science communication and expedition work.  
Who influenced you or encouraged you the most?
Before starting my own business in 2018, I spent five years working in the Office of Research Communications at UNC-Chapel Hill. My supervisor there (a former director at NASA) was one of the most intelligent and tenacious people I've ever met. Highly perceptive and doggedly loyal, she was unwavering in her support of my endeavors (like getting certified to scuba dive). As a young woman working in male-dominated environments, I dealt with varying degrees of intimidation and self-doubt. Having a strong female mentor made a huge difference.
What element of your work/study do you think is the most fascinating?
Working in the ocean never ceases to fascinate, mystify, and humble me. During a recent trip to the Florida Keys (to document coral reef conservation efforts) I was filming a large school of fish when a massive spiny lobster came out from under a rock and reached its long antennas towards my camera lens. The lobster's curiosity made for some amazing footage, but more importantly, reminded me what an honor and privilege it is to document the underwater world. 
 What other jobs led you to your current career?
The most defining experience of my career occurred in January of 2015 when I was asked to join a geophysical research expedition on a volcano in southern Chile. Before that time, I had accompanied scientists in the field briefly (mostly working in coastal North Carolina) but this was my first major international expedition. Spending 10 days hiking up and down a volcano and learning about the inner workings of our planet changed the trajectory of my life. From that point forward, documenting expeditions (the wilder, the better) has been my prerogative. 
What are your degrees and certifications?
B.A. in Journalism - University of North Carolina at Chapel Hill 2010; PADI scuba diver, FAA 107 licensed drone pilot, Wilderness First Responder
What are your hobbies?
I feel lucky that travel and adventure are a regular part of my life, both professionally and personally. When I'm not at sea, I'm usually in the mountains with a couple of adventurous friends (hiking, mountaineering, rock climbing, backpacking, or snowboarding.) At home, I enjoy cooking vegetarian food and seeing local, live music. 
How did you get involved with the Nautilus Exploration Program?
At All Hands on Deck (the 2018 National Ocean Exploration Form), I had the opportunity to meet Samantha Wishnak and Allison Fundis. After chatting for a few minutes, they said my skill sets and experience would be a valuable addition to the Nautilus Exploration Program. In the summer of 2019, I was thrilled to join my first expedition aboard Nautilus, and it has been a great pleasure and honor to work on the ship every season since then.
What advice would you give someone who wants to have a career like yours?
Being an expedition photographer/videographer requires much more than knowing how to use a camera. You need to be able to say yes to some pretty crazy requests and be comfortable working in less-than-ideal circumstances. As much as you can, you need to adopt a "go with the flow" attitude and always strive to be a team player. You should also recognize that this industry will require you to learn new skill sets, software programs, and technologies throughout your career (if you had told me when I was in college that my future job would involve flying drones off ships, I would not have believed you!) 
Grab your gear and hang tough - it's a wild (but very rewarding) ride.  
Expeditions
Marley participated in the following Ocean Exploration Trust expeditions: