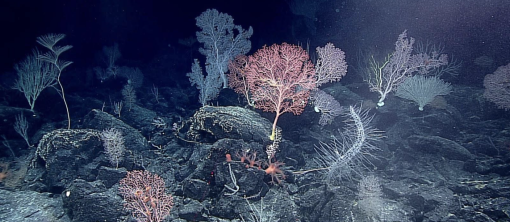 Ocean Exploration Trust
Join E/V Nautilus in Papahānaumokuākea Marine National Monument (PMNM) conducting remotely-operated vehicle (ROV) dives to document seamounts in this region that have not been previously documented with this scientific technology. From November 15 to December 6, 2021, the team of researchers will survey the seamounts thought to be the southern extent of the Wentworth seamount chain. They aim to document the variety of coral and sponge communities that live along the flanks of these seamounts, which can be hot spots of biological diversity that require a deeper understanding for future conservation. Rock samples will be collected to determine the age of each seamount and whether they formed sequentially millions of years ago. The team will also subsample all of the rocks collected to examine microbe-mineral interactions and mineral content of ferromanganese crusts, which are expected to be coating all of the rocks. Science objectives during this expedition will be led at sea by Lead Scientists Dr. Christopher Kelley, University of Hawaiʻi, and Dr. Beth Orcutt, Bigelow Laboratory for Ocean Sciences, and ashore by Dr. Randy Kosaki, PMNM. This Ocean Exploration Trust expedition is funded by NOAA Ocean Exploration through the NOAA Ocean Exploration Cooperative Institute, with additional support from NOAA Office of National Marine Sanctuaries and NOAA Ocean Exploration's Fiscal Year 2021 funding opportunity.
Papahānaumokuākea: "Where Nature and Culture Are One"
PMNM encompasses 582,578 square miles of the Pacific Ocean, an area larger than all the United States' national parks combined, and is one of the largest marine conservation areas in the world. PMNM was created in 2006 and initially enclosed 50 nautical miles out from the banks and atolls that form the Hawaiian Ridge. The boundaries were expanded out to the 200 nautical mile US Exclusive Economic Zone in 2016. In December of 2020, Congress directed NOAA to initiate the process to designate PMNM as a national marine sanctuary, which will add an additional layer of protection and permanency to this important monument--a process which remains underway. PMNM is a place of tremendous natural wonders and is also a place of deep cultural significance for Native Hawaiians. It is a privilege for Ocean Exploration Trust to be able to conduct expeditions here under permit from the co-Trustees of the region: the Department of Commerce, the Department of the Interior, the State of Hawai'i, and the Office of Hawaiian Affairs.
Throughout the expedition planning process, Ocean Exploration Trust has had the great opportunity to work closely with PMNM staff to inform research priorities at sea and integrate priorities including uplifting 'Ōlelo Hawaiʻi (Hawaiian language) and culturally-based protocols, and to lay a foundation for many years of collaboration as the ship returns to the Central Pacific. The expedition name Luʻuaeaahikiikapapakū (recorded pronunciation: Luʻu a ea, a-hiki-i-ka-papakū) was created and granted by the PMNM Native Hawaiian Cultural Working Group nomenclature committee. This name represents the journey to and the work in the papakū, or the ocean floor, which includes surveying and mapping seamounts, and investigating macro-biology, corals, and deep-sea rocks in the Wentworth Seamounts. Expedition participants will be involved in learning an oli (chant) describing the progression of exploration and shared knowledge through expeditions in PMNM. Learn the oli and more about the naming process.
The Richly Diverse Deep-sea Ecosystems of the Pacific
While mapping and diving in this unique area, our team will map and subsequently survey seamounts, conduct geological and biological sampling, and document biological communities. We will be looking for vibrant high-density coral and sponge communities as well as working to identify potentially new-to-science species. While shallow water coral reefs are relatively well surveyed, deeper seamounts and their associated coral communities are largely unexplored. Locating, characterizing, and understanding the distribution of these hot-spots of biological diversity are of particular interest to Monument managers, the NOAA Deep Sea Coral Research and Technology Program (DSCRTP), as well as other researchers for future conservation and exploratory efforts.
In only the last five years, ten new coral species have already been scientifically described from the exploration of the region's deeper seamounts, and new, targeted collections will improve our understanding of the monument's biodiversity. High-density coral communities are diverse and abundant, but not widespread and form on magnesium crust substrate at depths that may be targeted in nearby international waters by the newly emerging deep-sea mining industry. This expedition will contribute data to better understand these amazing communities and increase our knowledge of how and where they form.
Mineral Content & Microbial Services
This area that has yet to be documented by ROV survey also holds promise to determine the previously unrecognized southernmost extent of the Wentworth seamounts, a small chain of Cretaceous "hotspot" or "mid-plate" volcanoes created between 66 and 145 million years ago. Rock samples are critical to this expedition to determine the age of the rocks in order to unlock the geologic origins of these seamounts, and determine the microbe-mineral interactions and mineral content of the ferromanganese crusts that form the outer layer of deep-sea rocks.
During this expedition, with support from NOAA Ocean Exploration's Fiscal Year 2021 funding opportunity, researchers led by Lead Scientist Dr. Beth Orcutt of Bigelow Laboratory for Ocean Sciences will explore the mineral and microbial resources of the seamounts, which are expected to have high critical mineral content. Polymetallic ferromanganese crusts found on seamounts frequently include minerals that are used in consumer electronics, defense, renewable energy industries, and more. As demand for these resources increases, so does interest in mining them. However, little is known about the characteristics of these crusts and the microorganisms that live on and within them.
Microbial communities residing on and within these crusts and rocks may provide important services to seamount ecosystems, such as a potential food source or by conducting nutrient cycling. Rock and water samples will be collected to determine the mineral content and microbial ecosystem services within these habitats, and for broader eDNA studies. This project will result in important baseline information regarding the mineral resource potential as well as the parallel living resources of these remote seamounts and will be used to inform the ongoing management and conservation of the region. Learn more about this research.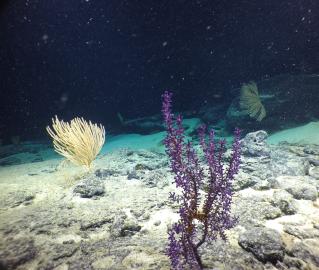 E/V Nautilus Expedition
Returning to Papahānaumokuākea Marine National Monument (PMNM) after an expedition in 2018, our team will be conducting ROV surveys on a chain of seamounts, and document whether these underwater mountains support vibrant coral and sponge communities like others in the region.