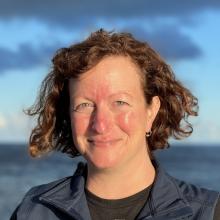 Beth Orcutt
She/Her
Co-Lead Scientist
Senior Research Scientist
Bigelow Laboratory for Ocean Sciences
Tell us about your work/research. What kinds of things do you do?
I am a marine microbial biogeochemist - I explore life below the seafloor in sediments and the oceanic crust. I want to understand how microbes thrive in these deep-sea environments, and how their life impacts the cycling of elements on Earth.
What sparked your initial interest in your career?
I enjoyed chemistry when I was in high school, and since I was fortunate enough to receive a scholarship to go to college, I decided to major in chemistry. When I was a college student, I had the great fortune of getting to do some summer research in a lab that specialized in chemistry in ocean environments. This experience opened my eyes to how cool microbes are since they are basically controlling chemistry in many environments. As if that wasn't cool enough, I then had the amazing luck to get to go to sea as a student and to dive to the bottom of the ocean in a submarine. Once I realized that you could have a job studying microbes and going in submarines, I decided that would be my job and have been at it ever since.
Who influenced you or encouraged you the most?
My mentor in college was a great influence on my career by providing me with many opportunities that allowed me to build my network and learn new skills.
What element of your work/study do you think is the most fascinating?
I get to play real-life video games with giant robots at the bottom of the ocean.
What are your degrees and certifications?
B.S. in Interdisciplinary Studies 
Ph.D. in Marine Science from the University of Georgia, Athens
What are your hobbies?
Gardening, walking, reading
How did you get involved with the Ocean Exploration Trust?
I reached out to new-to-me scientists about a potential collaboration interest, and this blossomed into being invited to participate in an expedition.
What advice would you give someone who wants to have a career like yours?
A job like mine requires being ok with making mistakes and actually expecting that they will happen and that they are part of the process.
Expeditions
Beth participated in the following Ocean Exploration Trust expeditions:
Selected Publications
2022
(2022).
Microbial ecosystem services and associates with ferromanganese crusts on seamounts of the Papahanaumokuakea Marine National Monument: Initail Results.
2022 Ocean Sciences Meeting