Video:
Recovering Meteorite Fragments in Olympic Coast National Marine Sanctuary
Deep-sea exploration isn't all glamorous, especially when E/V Nautilus is searching for a 2018 meteorite fall! On September 20, 2020, our team explored the Quinault meteorite debris field with NASA and NOAA's Olympic Coast National Marine Sanctuary and excavated an area that we had visited two years ago. This time, we used a magnetic exhaust on the ROV dredge and a switchable magnetic that allowed our ROV pilots to attract potential magnetic meteorite fragments. These samples have been preserved for future scientific study by researchers around the world.
Learn more about this expedition, and watch a recorded event about the meteorite search.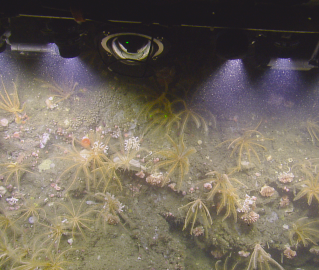 E/V Nautilus Expedition
The Olympic Coast National Marine Sanctuary is a biologically diverse and ecologically rich region that encompases nearly 8,250-square-kilometers (3,200 square miles) of coastal and ocean habitats along the wild, remote and scenic Olympic Coast of Washington State.