Video:
Explore @ Home: Meteorites from Outer Space to Inner Space
What happens when space rocks fall down to Earth? What can these space rocks, meteors, tell us about our own planet or other planets and stars? In 2018 OET and the Olympic Coast National Marine Sanctuary teamed up with NASA to hunt for a meteor that fell from space into the ocean off the coast of Washington. Join us as we learn more about the expedition then and now from Marc Fries, NASA's cosmic dust curator, a specialist studying meteors along with the host, Megan Cook. Learn about the challenge of finding space rocks on the seafloor and what tools are used to make these amazing discoveries.
This event originally aired on September 24, 2020 and was developed in partnership with CITGO.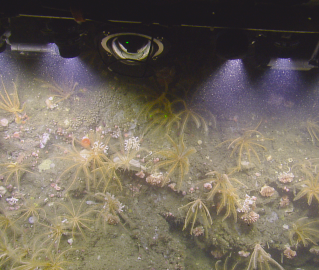 E/V Nautilus Expedition
The Olympic Coast National Marine Sanctuary is a biologically diverse and ecologically rich region that encompases nearly 8,250-square-kilometers (3,200 square miles) of coastal and ocean habitats along the wild, remote and scenic Olympic Coast of Washington State.