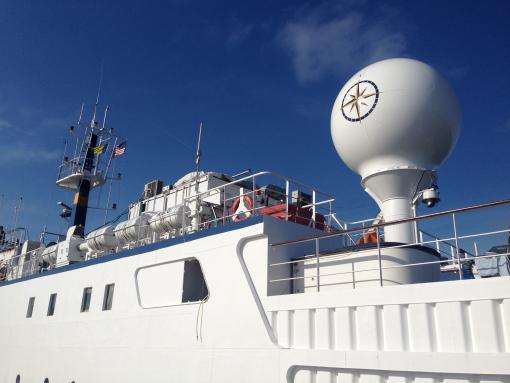 Ocean Exploration Trust
Nautilus is at the forefront of changing the way ocean science is conducted, turning viewers around the world into real-time oceanographic explorers. At the heart of this is our telepresence technology, which allows scientists, teachers, and students to participate in and contribute to the success of exploration.
Our mission is to seek out the unknown in regions the scientific community has deemed a high priority for exploration. In doing such, we bring discoveries of the deep to classrooms, research institutions, museums, newsrooms, and your living room. As part of our effort to share expeditions, we utilize telepresence technology to stream live video from remotely operated vehicles (ROVs) and various locations aboard the ship to global viewers tuning in to the Nautilus Live website. All you need is internet access to watch expedition dives in real-time. 
How Does it Work?
In addition to tools for conducting scientific exploration, the ship is equipped with a high-bandwidth satellite communication system that can transmit data to an unlimited number of viewers and scientists ashore who remotely stand watch with us. Our telepresence technology allows global audiences to view live video, audio, and data feeds from our ship, further expanding our reach to experts without the limitations of space or logistical planning that comes with transoceanic expeditions. In essence, you see what we see in real-time. 
Nautilus is outfitted with a satellite dish that sends real-time data and video to our shore-based telepresence hub – or "mission control" – at the Inner Space Center (ISC) at the University of Rhode Island. High-definition video feeds are streamed directly from cameras aboard ROVs Hercules and Argus and up a fiber optic cable to the control van aboard the ship. These feeds are then sent from our dish to a satellite and down to a receiving station at ISC, which is connected to high-bandwidth internet that allows for the live stream of video, audio, and data to flow from ship to shore where it is captured, displayed, and disseminated in real-time. From there, video and data are distributed directly to scientists' computers and the internet for the public. The facility also hosts teams of scientists and engineers during operations so that they can communicate with their counterparts at-sea and monitor the expedition.
Onshore scientists, engineers, and data loggers join the expedition from home through a special-access text dialogue connecting them with onboard scientists. Their input facilitates the expedition, helping us to determine what biological and geological samples to collect, point out interesting finds, and identify unique and rare species. In fact, while we were exploring an unknown shipwreck in 2015, it was a viewer whose input led to our eventual discovery of the USS Peterson.
The Benefits of Telepresence Technology
Telepresence is an extremely efficient use of resources that permits unlimited access to people onshore, transcending schedules and enlisting the expertise, skills, and abilities of experts around the world who otherwise might not have the opportunity to collaborate. Access to data is immediate and sustained throughout the entire expedition season, further contributing to an international collaborative initiative of exploration. Our website is equipped with a special question-and-answer feature so that viewers may send in their comments and our team can respond almost instantaneously. This brings ocean science to a screen in any location with an internet connection, allowing anyone around the world to directly engage with mission staff and operations in scientific exploration.
Access to the expedition is not limited to the seafloor. We have cameras located in our wet lab, ROV hangar, and back deck so that viewers can follow along with ROV launches and recoveries, sample collection, and data cataloging. Corps of Exploration members also participate in ship-to-shore interactions with audiences at museums, aquariums, classrooms and science centers around the world, from the Smithsonian Institute in Washington, DC to community centers in Alaska.
Science & Tech
Ocean exploration is a dynamic balance of understanding science and using the best in underwater technology.
Expeditions
Get a sneak peek of where we're headed next or revisit the discoveries of our past expeditions.
Classroom Resources
OET hosts a suite of free educational materials for use in classrooms, at home, or in the community.
Telepresence At-a-Glance
Telepresence Technology
 2.4 meter stabilized Sea Tel 9711 uplink antenna capable of C- and Ku-band operation of up to 20 Mbps (C-band circular or linear)

6 Haivison X Encoders streaming live video via satellite to the Inner Space Center ashore (including  spares)

 15 high-definition pan/tilt/zoom cameras: aft deck and port rail; Command Center; wet lab; ROV hangar; winch hold
Communications
Ship-wide RTS Telex intercom system for shipboard communications and connection with shoreside participants
Telephone interface is available through a Rhode Island exchange for real-time collaboration between scientists ashore and on the ship
Full Internet connectivity from shipboard LAN and wifi
KVH TracPhone-v7 for redundant bridge communication, providing telephone and IP service