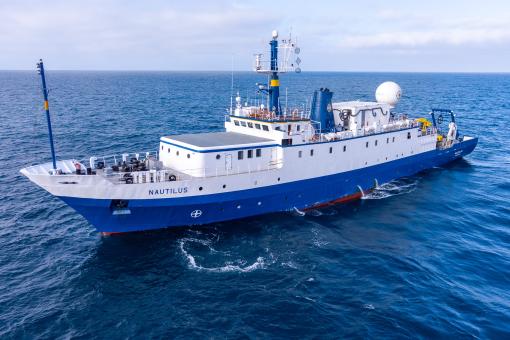 Ocean Exploration Trust
Welcome Aboard E/V Nautilus 
Exploration Vessel (E/V) Nautilus is owned and operated by the Ocean Exploration Trust (OET), a 501(c)(3) nonprofit established to explore the world's oceans to seek out new discoveries in the fields of geology, biology, maritime history, archaeology, and chemistry.
OET was founded in 2008 by Dr. Robert Ballard to engage in pure ocean exploration. Inspired by Ballard's discovery of the wreck of the Titanic and the first discovery of hydrothermal vents, it is our organization-wide mission to develop and utilize technologies that enable us to push the boundaries of ocean exploration and to share these discoveries with global audiences through around-the-clock telepresence and immersive resources for students and educators. 
The ship is operated by 17 permanent crew members in addition to 33 berths for members of the rotating Corps of Exploration, including scientists, engineers, educators, and artists from around the world who serve as role models for the next generation of explorers interested in STEM career pathways. 
E/V Nautilus is homeported at AltaSea at the Port of Los Angeles in San Pedro, California. Since 2008, Nautilus has explored waters across the world, moving from the Black Sea and Mediterranean Sea into the Atlantic Ocean, Caribbean Sea, Gulf of Mexico, and crossing through the Panama Canal to the Pacific Ocean in 2015.  Her current focus is on exploration throughout the Pacific Ocean. OET's mobile exploration systems — assets that are deployed from other vessels and from shore — are available for deployment throughout North American waters, including the Great Lakes and the Gulf of Mexico.
Nautilus was built in 1967 in East Germany as a fisheries research vessel under the original name Georgius Agricola, before becoming Alexander Von Humboldt, and eventually being procured and retrofitted into a deep-sea exploration vessel in 2008 by OET.
Learn More: Mission and Goals
Novel Oceanic Research
Seagoing operations are dedicated to conducting all scientific research to the highest international academic standards as we push the boundaries of ocean engineering, technology, education, and communication. 
Exploratory missions of our 68-meter (224 foot) exploration vessel include the testing of innovative scientific instruments and systems, mapping technologies, site characterization procedures, at-sea data analysis, and understanding and exploring our world's oceans – all shared live to spread the excitement of ocean exploration and turn everyday viewers into explorers. 
Expeditions are planned in conjunction with federal agencies, marine sanctuaries, media organizations, and research institutes whose missions align with our own, including the National Oceanic and Atmospheric Administration (NOAA) Office of Ocean Exploration and Research, NOAA Office of National Marine Sanctuaries,  NOAA Office of Coast Survey, National Geographic Society, and other organizations. As of 2019, Ocean Exploration Trust joined a newly-formed NOAA Ocean Exploration Cooperative Institute alongside the University of Rhode Island, Woods Hole Oceanographic Institution, University of New Hampshire, and University of Southern Mississippi, to drive a new generation of exploration technology, innovation, and outreach capabilities.
Learn More: Our Partners & Sponsors
Technology to Explore the Ocean's Deepest Depths
Nautilus has traveled the planet in search of the ocean's unknown regions, including the rediscovery of the wreck of the USS Independence, surveying underwater volcanoes and bubbling methane seeps, and introducing some of the world's most loved cephalopods, like the googly-eyed stubby squid and the brooding octopus garden located in Monterey Bay National Marine Sanctuary. 
The ship is equipped with a two-tiered approach to ocean exploration. First, the team uses a multibeam sonar system mounted on the hull of the ship to acquire data that our team uses to produce maps of the seafloor. Once the data is analyzed and areas of interest are identified, we deploy ROVs to collect video footage and a variety of biological, geological, chemical, and archaeological samples. 
Innovation and progress are at the forefront of our expedition through our use of robotic vehicles, data collection, state-of-the-art sensors and samplers, deployable mobile systems, robotic vehicles, telepresence, and live streaming capabilities, as well as insight from scientists located around the world. Aboard the vessel, our data and wet labs are used for processing digital data and physical samples.
Science & Tech
Ocean exploration is a dynamic balance of understanding science and using the best in underwater technology.
Expeditions
Get a sneak peek of where we're headed next or revisit the discoveries of our past expeditions.
Classroom Resources
OET hosts a suite of free educational materials for use in classrooms, at home, or in the community.
Ship Specifics At-a-Glance
General
1967, Rostock, Germany
 68.23 meters (224 feet)
 10.5 meters (34.5 feet)
 4.9 meters (14.75 feet)
1,249 gross, 374 net
24,000 kilometers (13,000 nautical miles) at 10 knots
 40 days at sea
 10 knots service, 12 knots maximum
 330 cubic meters
 Single 1,285 kilowatt (1,700 hp) controllable pitch main thruster; 280 kW bow tunnel thruster; 300 kW jet pump stern thruster
 Two 585 kVA generators, one 350 kVA generator
 Four 20-foot vans
 17 crew; 33 science and operations
 St. Vincent and the Grenadines

Dynacon 421 ROV winch with Rochester A06063 1.73 centimeter (0.681 inch) diameter cable
DT Marine 210 winch
Bonfiglioli knuckle-boom crane, 2–6 ton capacity, two extensions
Guerra M660.24AJ1 foldable knuckle-boom crane, SWL 4.5 ton at 8.3m
Two airtuggers, SWL 900 lbs each
A-frame, SWL 8 tonnes
2 Rescue boats; davit with SWL 0.9 mtn
Oceanscience UCTD 10-400 profiling system; max depth 1,000 meters
Telepresence Technology
2.4 meter axis stabilized Sea Tel 9711 uplink antenna capable of C- and Ku-band operation of up to 20 Mbps (C-band circular or linear)
 6 Haivison X Encoders streaming live video via satellite to the Inner Space Center ashore including spares)
 23 high-definition pan/tilt/zoom cameras: aft deck and port rail; Command Center; wet lab; ROV hangar; winch hold (6)
Communications
Ship-wide RTS Telex intercom system for shipboard communications and connection with shoreside participants 
Software audio connection for global participants using VLink multi-platform intercom client (Mac, Windows, Android, iOS)
Telephone interface is available through a Rhode Island exchange for real-time collaboration between scientists ashore and on the ship
Full Internet connectivity from shipboard LAN and wifi
KVH TracPhone-v7 for redundant bridge communication, providing telephone and IP service
Data Processing & Visualization Lab
 44.5 square meters (480 square feet)
Seven workstations for science manager, data loggers, navigators, educators, data engineers, satellite engineer, video engineer; seafloor mapping data processing; flexible bench space
Rack Room
 17.3 square meters (185 square feet)
 50 TB onboard storage for non-video data; 150 TB disk storage for video data
 Iridium phone, KVH phone
 80 cu ft of storage
Production Studio
 12 square meters (130 square feet)
UHD Panasonic BGH1 studio camera ; Sony A1 camera kit  for topside video with  live broadcast capacity  via Teradek 500
PRODUCTION: 8-input video production switcher for live-produced interactions; full production editing workstation with ship-to-shore transmit capacity for remote production needs
Wet Lab
 19 square meters (204.5 square feet) with 5.3-meter-long (17.5-foot) stainless steel bench and 2.3-meter-long (7.6-foot) worktop

Panasonic MDF-C8V1 ULT –80/–86°C scientific freezer, 0.085 cubic meters (3 cubic feet)
2 science refrigerators, approximately 0.57 cubic meters each (20 cubic feet each)
Science freezer, -20°C, 0.14 cubic meter (5 cubic feet)

Fume hood
2 HAZMAT lockers for chemical and waste storage
Carry-on, carry-off chemical policy
ROV Hangar
24 square meters (258.3 square feet)
110/60 Hz and 220/50 Hz available
Hard hats, PFDs, high voltage gloves
 2 × 2-ton overhead manual chainfall lifts
 Storage for spares and other equipment
ROV Workshop
 18 square meters (193.8 square feet)
 Complete set of hand tools, cordless tools, electrical and fiber optic test equipment, mill-drill combination machine
 Storage for spares and other equipment
Control, Command & Outreach Vans
 43 square meters (476 square feet)
Twelve; typical configuration for ROV operations: two to four scientists, data logger, pilot and copilot, navigator, video engineer, educator
 Two Cinedeck ZX85 Video Recorders that capture ROV footage in Two simultaneous codecs, Two Blackmagic Hyperdeck Uncompressed 4K recorders, Two AJA KiPro Go recorders, 2x LTO-6 archive media drives, 2x LTO-8 archive media drives