Blog:
Return to the Octopus Garden in Monterey Bay National Marine Sanctuary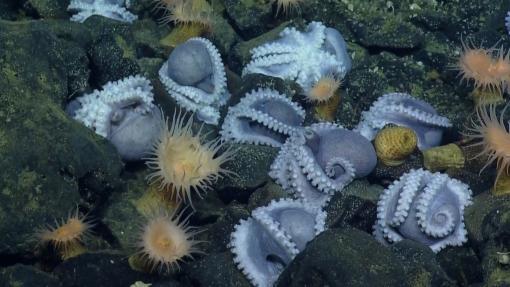 Ocean Exploration Trust
We are heading back to the Octopus Garden! Between October 13 and 18, 2019, E/V Nautilus will be returning to Davidson Seamount in the Monterey Bay National Marine Sanctuary (MBNMS) after an eventful discovery last October.
Diving at a depth of more than 3,000 meters (9,800 feet), in 2018 our team discovered more than a thousand deep-sea octopods in never-before-seen aggregations. Most incredibly, nearly all of the octopuses were females resting in the brooding position, tucked into rocks with their eight arms facing out to cover their bodies and precious eggs. The periwinkle-hued octopuses are believed to be Muusoctopus robustus, though our team is awaiting DNA results to confirm this. Since we first discovered the Monterey Bay "Octopus Garden," marine scientists have conducted several dives in the region and have observed developments of baby octopuses inside their eggs and at least five hatchlings. This means this rocky outcrop could be an important nursery to deep-sea octopuses!
Within the area, our team also found a hydrothermal feature believed to be the result of a pressure differential in a low temperature ridge-flank hydrothermal system connected to Davidson Seamount as the source, 12 kilometers (7.5 miles) to the northwest. This geologic feature may be only the third ridge-flank low-temperature hydrothermal system ever discovered. But why would an aggregation of octopuses choose such a seemingly inhospitable environment to brood? Simply put, we don't know. Hydrothermal areas tend to have high temperatures and low oxygen levels that might seem to be a dangerous environment for newborn octopuses. Additional dives earlier this year confirmed suspicions that a shimmer seen here was caused by thermal mixing of warmer venting seawater (up to 10.4 degrees Celsius) with ambient seawater.
Last year our expedition in MBNMS was cut short and this year our main objective is returning to the Octopus Garden and its surrounding unexplored, deep-water basaltic rocky outcrops over two 30-plus hour ROV dives.
Revisiting the Octopus Garden
Our first dive will take place at the Octopus Garden where we will take temperature and dissolved oxygen (DO) measurements in the waters surrounding the brooding area, as well as collect biological and geological samples of interest. Most of the ridge here is unexplored and we will be paying special attention to and taking up-close images of any groups of more than a dozen brooding females, as well as associated species nearby. We will also be checking the respiration rates of brooding octopuses found near the hydrothermal feature to compare with any octopods that we may find located away from venting fluids. To wrap up, we will be deploying an OsmoSampler and a long-term temperature and dissolved oxygen logger to record data until we can pick it up again in 2020.
Exploring the Areas Surrounding Davidson Seamount and Beyond
Our second dive site will be at a location known as "Drop Point 2." This is an unexplored area that we believe is home to an abundance of water corals, sponges, fishes, and other species that exist on the outskirts of Davidson Seamount. It is possible that we may encounter more fluid venting similar to what exists at the Octopus Garden. If that happens, we will collect temperature and DO readings and collect video to establish a population count of any species at a later date.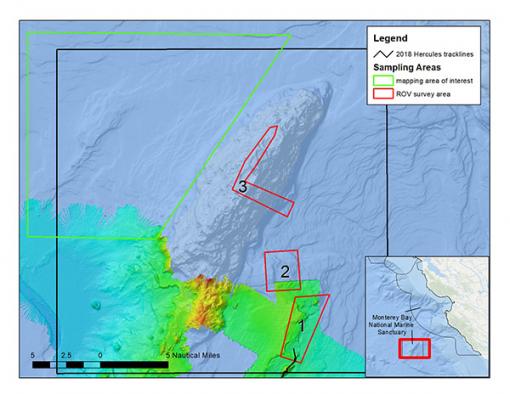 Credit
Ocean Exploration Trust and NOAA ONMS
Davidson Seamount is one of four submarine volcanoes in a pristine undersea mountain habitat off the coast of Central California. Nicknamed the "Oasis in the Deep," this 42-kilometers-long by 12-kilometers-wide (26-miles-long by 8-miles-wide) seamount hosts vast sponge fields, crabs, deep-sea fishes, shrimp, basket stars, and fragile "old-growth" corals, some of which are more than 100 years old. The massive volcano, which last erupted about 9.8 million years ago, measures 2,280 meters too (7,480 feet), yet the summit is still more than 1,250 meters (4,100 feet) below the sea surface. There are more than 30,000 known seamounts in the Pacific Ocean but less than .1 percent have been explored.
The seamount is located within the boundaries of MBNMS, one of the largest of the nation's marine sanctuaries encompassing 444 kilometers (276 miles) of California coastline and more than 15,500 square kilometers (6,000 square miles) of open ocean that extend an average distance of 48 kilometers (30 miles) offshore. That makes MBNMS larger than Yellowstone National Park! This so-called "Serengeti of the Sea" is home to an incredible variety of life, including at least 525 different species of fish.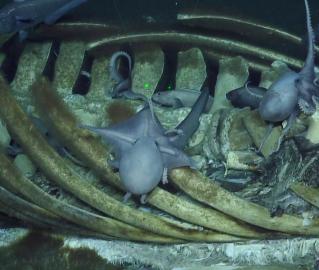 Expedition
The main objectives of this expedition are to revisit and further characterize the "octopus garden,"  an unexplored, deep-water region of basaltic rocky reef that resides southeast of Davidson Seamount, within the borders of Monterey Bay National Marine Sanctuary (MBNMS). In October 2018, Nautilus and MBNMS discovered extensive aggregations of over 1,000 brooding female octopuses (Muusoctopus robustus).