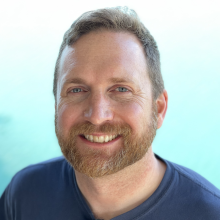 Timothy Dwyer
He / Him
Video Engineer
Science and Mathematics Teacher
Friday Harbor High School
Tell us about your work/ research. What kinds of things do you do? 
I teach Biology, Chemistry, Environmental Science, and Physics to high school students at Friday Harbor High School in the San Juan Islands of Washington State. In teaching science and math, I make a point of drawing connections between each of my courses to illustrate common themes. Science is a process, a way of figuring things out, and I make every effort to teach the process by bringing my students out into the field to collect, analyze, and interpret data from different ecosystems in the islands we call home.
What sparked your initial interest in your career?
 Science has always been one of my favorite subjects - I've been curious about the ways the natural world works since I can remember. In pursuing a Master's degree in biology, I made a living teaching undergraduate and high school classes. In the process, I learned that I greatly enjoy the human interactions and variety of day-to-day experiences that are inherent in the teaching profession. I found that I greatly enjoyed getting young people interested and excited about the same things that I was interested in, and I made the career switch soon after graduating. 
Who influenced you or encouraged you the most?
My students are the ones who have encouraged me the most. Either through their own post-graduation pursuits of careers in science and math or through their enthusiastic engagement with the concepts and skills I'm teaching, they constantly invite me to try out new ideas in the classroom.
What element of your work/ study do you think is the most fascinating?
I really enjoy figuring out how other people learn. There are so many different ways people learn and I enjoy the challenge of getting to know the varied learning styles of my students.
How did you get involved with the Nautilus Exploration Program?  
During summer breaks from school, I often try to differentiate my own experiences so that I can broaden and deepen the subjects I teach. Working with a group of underwater archaeologists in Croatia a few years ago, I learned about the Science Communication Fellowship Program. Nautilus has friends around the world and a few of them encouraged me to apply for the fellowship, which brings teachers, professors, and informal educators to sea aboard the ship to help share the Corps of Exploration experience with the wider world.
What other jobs led you to your current career? 
I've had a number of jobs in formal and informal education as well as research science. I developed a foundational interest in science education working with students aboard traditional sailing vessels with Living Classrooms Foundation in Maryland and Ocean Classroom Foundation in Maine. I expanded on this interest as a Marine Science Instructor with the Catalina Island Marine Institute in southern California, where I reveled in exploring temperate underwater community ecology with middle and high school students. After pursuing a graduate degree in experimental marine ecology, I worked as a researcher in a subtidal ecology laboratory at the University of Washington - Friday Harbor Laboratories before transitioning to my career as a high school educator.
What are your degrees and certifications?
I hold degrees in Bachelor of Arts in Biology and Environmental Studies -- Bowdoin College, 2000; Master of Science (Thesis) in Biology -- Northeastern University, 2010; Scientific SCUBA Diver -- American Academy of Underwater Sciences, 2002; Divemaster -- Professional Association of Dive Instructors; 2011.
What are your hobbies?
The things I love to do outside of "work" are SCUBA diving, sailing, cycling, swimming, and photography.
What advice would you give someone who wants to have a career like yours?
My advice to someone interested in my career is whatever career path you choose, focus on that path but remember to look to either side from time to time. There are often related opportunities and experiences that will teach you a great deal about yourself and are worth pursuing!
"I've always been enthralled by the idea of being one of the very first people to visit a particular place or to witness a specific phenomenon."   
Expeditions
Timothy participated in the following Ocean Exploration Trust expeditions: