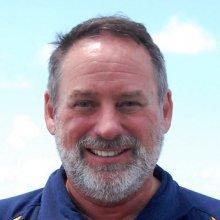 Robert Waters
Hercules Pilot
Facilities Manager & ROV Engineer
Ocean Exploration Trust
Bob Waters is a veteran of over seventy scientific expeditions over eighteen years working as both a manned and unmanned submersible pilot. He has piloted Woods Hole Oceanographic Institution's DSV Alvin, ROV Jason, DSL120 and the ROV Doc Ricketts for the Monterey Bay Aquarium Research Institute. Bob has extensive experience in Subsea Electronic Systems and was one of the principal engineers developing the Seabotix LBV miniature ROV.
Bob studied electrical engineering at Mesa College.
"I am thrilled to get a chance to operate the Hercules and hope that I can pick up some new ideas and pass on some of my past experience to the team."
Expeditions
Robert participated in the following Ocean Exploration Trust expeditions: