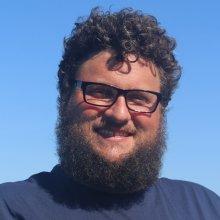 KG Fairbarn
ASV Scientist/Engineer
Engineer
University of New Hampshire
Tell us about your work/research. What kinds of things do you do?
UNH's Center for Coastal Ocean Mapping has several seafloor mapping unmanned autonomous surface vehicles (ASVs) ranging from a couple feet to 14 feet in length. My job as an engineer is to: operate the boats, keep them running, troubleshoot when there are issues, and develop hardware to improve autonomous capabilities. 
What sparked your initial interest in your career?
I started my career as a commercial diver just after high school then got interested in marine science through a community college course I took while recovering from an injury. I've spent most of my life in-and-around the ocean and have been an RC boat/plane/drone/car enthusiast for as long as I remember so it only seemed natural to look for a job working with a big radio controlled seafloor mapping boat.
Who influenced you or encouraged you the most?
My oceanography professor at Orange Coast Community College, Dr Tom Garrison, convinced me to pursue a career in marine science. 
What element of your work/study do you think is the most fascinating?
I really enjoy troubleshooting problems. 
What other jobs led you to your current career?
Commercial diver, SCUBA boat captain, scientific diver, research technician.  
What are your degrees and certifications?
A.S. in Marine Technology - National Polytechnic College of Oceaneering and Engineering; B.A. in Geography - UC Santa Barbara; M.S. Remote Sensing - Naval Postgraduate School.
What are your hobbies?
Too many....RC airplanes/drones/cars, swimming, backpacking, brewing beer, cooking, bicycle touring.
What advice would you give someone who wants to have a career like yours?
Most research engineers need to be a jack-of-all-trades kind of person. There is not a single path to do what I do. Do what you enjoy doing and find out where it will take you.  
Expeditions
KG participated in the following Ocean Exploration Trust expeditions: