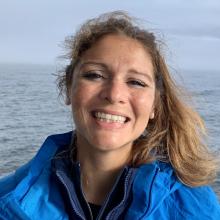 Katie Doyle
She/Her
Lead Science Communication Fellow
Ocean Program Teacher
Flour Bluff Independent School District
Tell us about your work/research. What kinds of things do you do?
My work is to teach students at Flour Bluff School District about the ocean in fun, hands-on, and meaningful ways. I am fortunate enough to work just two blocks from the Gulf of Mexico and take students there almost daily. Weekly we go kayaking, conduct water analysis, and study the flora and fauna of our local wetlands. Students enjoy collecting plankton and bacteria and observing it under the microscopes back in the lab. In addition, we maintain our own little mini-aquarium. In our lab, we have coral, snakes, turtles, pufferfish, mice, various lizards, and stingrays.
What sparked your interest in your career?
While the ocean has always captivated me, Girl Scouts gave me the ability to pursue a career in marine research and education. From staying on an educational science vessel on Lake Michigan to helping me become SCUBA certified at age 14, Girls Scouts has allowed me to pursue my passion. While in college, I was able to help conduct research with US Fish and Wildlife, my universities, and Texas Parks and Wildlife. After graduating college I worked as a marine biologist for several years until educating others started calling to me.
Who influenced you or encouraged you the most?
Growing up I was supported by my community and had an amazing 5th-grade science teacher. They gave me support and encouragement through every step of my journey.
What element of your work/study do you think is the most fascinating?
Every day I am able to look at the Gulf of Mexico and notice the beauty, tenacity, and strength it has. Many people feel that the Gulf does not compare to the Pacific Northwest or the Caribbean, but I am able to work in and around daily and see how resilient it is. It fascinates me that no matter what the Gulf seems to quickly heal itself and still maintain such an abundance of life.
What other jobs led you to your current career?
I have always been fascinated by all aspects of the ocean; from hydrothermal vents to coastal wetlands to cold-water fish. I have been fortunate that I have been able to see so many different aspects of the oceans. I have been able to work with endemic cave species in Texas, fish in the Baltic Sea off Finland, bays, and estuaries in the Gulf of Mexico, commercial fisheries in the Gulf of Maine, freshwater species in rural East Texas, sharks in South Africa, and humpbacks in Mozambique. My hard work ethic, professionalism, and capacity for change have led to some truly amazing opportunities.
What are your degrees and certifications?
Bachelors of Science in Biology with an emphasis in Aquatics---Texas State University 2010; Masters Degree of Education--- Texas State University: Round Rock 2015
What are your hobbies?
My hobbies include anything on the water or outdoors. All my water sports are weather dependent; no wind=kayaking, mild wind=windsurfing, lots of wind=surfing, and if the water is clear I will go scuba diving every chance I get. Besides being on the water, I enjoy hopping on a tractor and helping with cows at my family's ranch. Above all else, I enjoy hanging out with my friends and losing at shuffleboard.
How did you get involved with the Ocean Exploration Trust?
I was told about the Ocean Exploration Trust by a former professor of mine. I started looking at their resources online and fell in love with it. A couple of years later, after applying, I was thrilled to be accepted to become a Science Communication Fellow.
What advice would you give someone who wants to have a career like yours?
No matter what career you choose to pursue, make sure you have a strong background in math and computers. There are so many paths to a successful career in any marine field. Even though you may not think computer engineering or high-level statistics are applicable to your careers, they are. It never ceases to amaze me, how much stuff I never thought I needed to learn about, I use in my everyday life.
Expeditions
Katie participated in the following Ocean Exploration Trust expeditions: