Photo album:
Taking a Deep Dive on Scientific Instruments: The Neptune Observatory
Oceans Networks Canada (ONC) and Ocean Exploration Trust have a long and robust partnership, working together to learn more about the deep sea over six years of operations. ONC operates a world-leading cabled ocean observatory that constantly monitors a variety of seafloor instruments. ONC's NEPTUNE Observatory allows scientists around the world to operate instruments remotely as well as receive data at their home laboratories. In this expedition, the team accomplished so much including installing seismometers, connecting a benthic crawling robot, servicing existing tools, and laying new cables.
Learn more about these complex instruments of the deep sea through this album and dive deeper by visiting Ocean Networks Canada's website.
Contributed by Science Communication Fellows Maynard Okereke, Lori Hetschel, and Katie Doyle.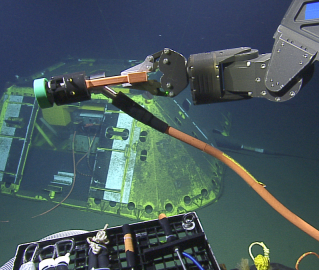 E/V Nautilus Expedition
For 28 days, E/V Nautilus will provide support to Ocean Networks Canada's (ONC) NEPTUNE observatory located off the west coast of British Columbia, Canada, within the traditional and modern territories of the Nuu-chah-nulth and Coast Salish peoples.