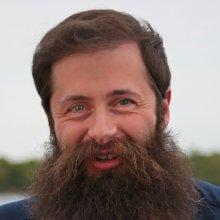 Justin Lowe
Data Engineer
Data Engineer
Tell us about your work/ research. What kinds of things do you do? 
I am a data engineer for OET.  I fix/maintain just about everything to do with electronics on the ship except for some parts of the ROV. I run our data systems that collect all the scientific data during a cruise - and also integrate any instruments that scientists bring aboard. 
What sparked your initial interest in your career?
I've always been interested in computers - I enjoy the puzzle of them and I see what a great tool they can be to accomplish amazing projects.
Who influenced you or encouraged you the most?
The thing that influenced me the most was the internet with its innocent & optimistic technofuturism during the 90's.
What element of your work/ study do you think is the most fascinating?
The fascinating part of my job is the sheer novelty of experiences it affords me, rather than doing one specific thing. One day it is solving a new problem with a toolbox of random parts, another it is watching weird squishy creatures move along the seafloor, and the next is exploring a new country with people from all over the world with different backgrounds.
How did you get involved with the Nautilus Exploration Program?  
I learned about this job with OET through an alumni group on LinkedIn. Before this, I had done a few sailing trips and dreamed of living on a boat in exotic locales, but never considered a job mixing computers and water. 
What other jobs led you to your current career? 
I don't think any one of my jobs specifically led me here - I sort of luckily stumbled into it. In college, I learned to do science well, and always used that background as a lens in my jobs. My most relevant job involved modeling complex systems in Matlab & Fortran and processing the resultant large datasets - not unlike our data logs onboard. But there is no intelligible A to B to C path that got me here.
What are your degrees and certifications?
The degrees I hold are BA Math, Physics, and Russian - Vassar College 2007; MS Information Security and Assurance - Western Governers University 2016; CEH, CHFI, DCITA-DFE.
What are your hobbies?
I like to think my hobbies really help define who I am. I love getting lost in a good book - fiction and non-fiction alike. And just learning in general - from books, classes, or random conversations with people. I also love a good meander through town or trees as much as through words & ideas. And I can occasionally really nerd out about sous-vide.
What advice would you give someone who wants to have a career like yours?
My advice to anyone interested in the career field I am in is to keep in touch with people! And join random groups that may be of interest to you. I only heard about this opportunity through an alumni interest group. So keep in touch with people - because you never know where a new & interesting idea is going to come from.
"I love being on the E/V Nautilus all season!"
Expeditions
Justin participated in the following Ocean Exploration Trust expeditions: