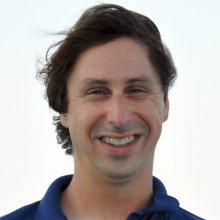 Brennan Phillips
Science/Data Team
Engineer / Graduate Student
University of Rhode Island
Tell us about your work / research. What kinds of things do you do?
I am an ocean engineer and a deep-sea biologist. I am an ROV pilot, I have worked for Dr. Ballard since 2004, and I also have extensive experience working with autonomous underwater vehicles (AUV's) and manned submersibles. My research is focused on hydrothermal vent plumes and bioluminescence, and applying novel technologies to addressing questions on these themes.
What sparked your initial interest in your career?
I grew up a few miles from Mystic Aquarium, where Dr. Ballard was based for a long time, and I regularly visited his exhibits as a child. This inspired me to study ocean engineering at the University of Rhode Island.
Who influenced you or encouraged you the most?
Dr. Ballard influenced my career the most by far, but I have an extremely supportive family that includes my parents, my brother, my wife and my young son. They continue to support and encourage me in many important ways.
What element of your work / study do you think is the most fascinating?
I really love going to sea and working in unique environments with passionate, talented people. This defines oceanography and I can't get enough of it.
What other jobs led you to your current career?
During my first years working for Dr. Ballard, I was given the opportunity to earn my Master's degree in Oceanography studying gelatinous zooplankton in the Antarctic. This laid the groundwork for my biological background. I then spent two years working at Woods Hole Oceanographic Institution, where I participated in what was then the largest-scale deepwater survey ever attempted in a search to find Amelia Earhart's plane. I then returned to graduate school in 2012 to earn my PhD in Oceanography, and I am now combining my engineering background with biological studies which is very exciting to me.
What are your degrees and certifications?
BS: Ocean Engineering, University of Rhode Island, 2004
MS: Oceanography, University of Connecticut, 2007
PhD: Oceanography, URI Graduate School of Oceanography, 2016
What are your hobbies?
I love surfing, running, biking, baking bread and most of all, spending time with my son.
What advice would you give someone who wants to have a career like yours?
Follow your passion and never give up on your dreams. Persistence is essential to success.
"I am proud to work aboard the E/V Nautilus because of the wonderful and talented team that I am privileged to work with, while we explore the ocean and share our experiences with the world."
Expeditions
Brennan participated in the following Ocean Exploration Trust expeditions: