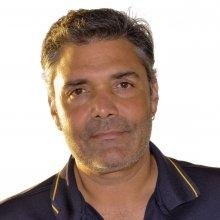 Allan Santos
Video Engineer
Freelance Video Engineer
Freelance
Tell us about your work/research. What kinds of things do you do?
I specialize in live video production supporting professional and collegiate sports, large news events, entertainment and corporate events as well as a variety of other subjects.
What sparked your initial interest in your career?
Since I was very young I was always interested in ocean exploration from watching Jacques Cousteau with my grandfather who immigrated to the US on a whaling ship in the early 20th century. I told him many times back then that some day I wanted to work as a cameraman on the Calypso. My dream came true working on an even more capable ship with a truly great inspirational leader, Dr. Ballard.
Who influenced you or encouraged you the most?
Dr. Ballard and Cousteau were easily my biggest inspirations to enter the world of ocean exploration.
What element of your work/study do you think is the most fascinating?
Exploring the ocean with such amazingly intelligent peaceful people is the most rewarding aspect of my career. Being part of such a team while learning and delivering the live video content to the world to share is almost as valuable to me as the people I share it with.
What other jobs led you to your current career?
While a young man in the US Navy I developed an interest in still photography which lead me to videography in television where I met a lot of people thru my parents who also worked in television. My electronics training in the Navy gave me an opportunity to learn Television Broadcast Engineering in the early days of my career. Combining my on location video production and videography experience with my love for the sea and experience on it I found I was very well suited for this unique profession of "Ocean Explorer".
What are your degrees and certifications?
US Navy advanced electronic training and some college.
What are your hobbies?
When not exploring the sea floor my favorite thing to do is sail on top of it. The rest of my time (and on the sailboat) is spent with good people, good food and good music. I also hold a private pilots license.
How did you get involved with the Ocean Exploration Trust?
Like almost all shoots it was purely luck (being in the right place at the right time and most importantly prepared professionally) that I found myself on the Nautilus. I was called one day to do a video shoot with Dr. Ballard and was elated. When he offered me the opportunity my resume, references and enthusiastic attitude were noticed as was my experience at sea. I was given a chance to prove myself on the ship and have loved it ever since.
What advice would you give someone who wants to have a career like yours?
In the field of live video and television production the most important skills to have are good people skills, a passionate commitment to the end product and versatility in your profession and in life. Everyone I've met in my field (that's a lot after 30 years) is very well rounded, well read and well traveled with numerous skill sets.
Expeditions
Allan participated in the following Ocean Exploration Trust expeditions: