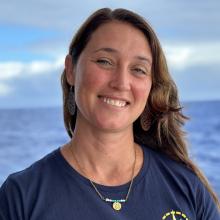 Ashleigh Glickley
She/Her
Science Communication Fellow
Academic Instructional Coach
Hawthorne Elementary School
Tell us about your work/research. What kinds of things do you do?
I am a National Board Certified teacher with 15 years of experience working in Dual Language Programs. As an academic instructional coach, I help teachers develop curricula, plan lessons, and implement strategies to increase engagement in their classrooms. My research interests include effective strategies in second language acquisition, perceptions of stakeholders towards language-learning programs in U.S. public schools and abroad, project-based learning, and innovative practices in both formal and informal educational settings.
What sparked your initial interest in your career?
My passion for bilingual education began during my time working as a Peace Corps volunteer in indigenous bilingual schools in Guatemala. Most of my students spoke Kaqchikel, a Mayan language, and were learning Spanish at school. I was teaching a science class to them in Spanish, which was also my second language.
This was my first experience in realizing the power of being bilingual or multilingual. If it hadn't been for us all learning Spanish together, we wouldn't have been able to share and learn from one another. My students taught me to be patient and forgiving of myself when I made a mistake or said something the wrong way. Working in their school also showed me the importance of bilingual programs in maintaining students' native language and culture. My time in Guatemala sparked a love of language learning and encouraged me to continue my studies in bilingual education in graduate school.
What element of your work/study is the most fascinating?
The most fascinating thing I have done recently was to become scuba certified. As a part of the shipwrecks team, I felt like it was important to understand the work of the team so that I could best describe it to students. The process of learning to scuba dive held many lessons that were similar to learning any new skill or content. I sometimes felt overwhelmed or scared, especially when I had to take my mask off underwater, but I knew that if I just kept breathing everything would be ok.
What other jobs or skills led you to your current career?
I love learning new strategies for making school engaging and meaningful to students. As we shifted to online learning during the pandemic, I often thought about how important it was to acknowledge students' interests and backgrounds and to integrate their voices into what I am teaching. Last year, I got the opportunity to collaborate with Dr. Jenny Adler, a National Geographic Explorer working to document female scientists through 360-degree videos. I loved watching my students interact with the videos and see what was happening underwater from a classroom in Kentucky. This interaction sparked a desire to build interactive learning experiences between scientists and students in classrooms all over the world.
What are your degrees and certifications?
Bachelor of Arts in Elementary Education- Flagler College 2002
Masters of Arts in Bilingual Education- University of Arizona 2007
Certified in Elementary Education and Spanish K-12
National Board Certified, English as a New Language
What are your hobbies?
I love hiking, kayaking, and camping with my family. I also love spending time with my Bernese Mountain Dog, Bear.
What advice would you give someone who wants to have a career like yours?
If you would like to become a teacher, I would recommend following a path that speaks to you. First, pick an area that you are passionate about like science, math, or history. Then, pick an age group of students you might want to work with. Finally, find experiences where you can gain skills by working with groups of students like volunteering as a peer tutor or working as a camp counselor, or in an after-school program.
Expeditions
Ashleigh participated in the following Ocean Exploration Trust expeditions: