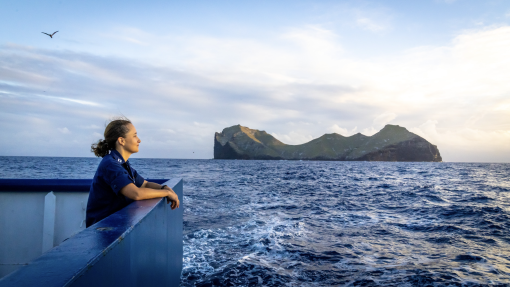 Ocean Exploration Trust
This blog was written by Lieutenant Marybeth Head, a NOAA Corps Officer who joined NA142 as a guest mapper. She describes her pathway to pursuing a STEM career at sea by becoming an officer with the maritime branch and her role aboard E/V Nautilus. NOAA and Ocean Exploration Trust collaborate to train and develop the next generation of ocean leaders.
My name is Lieutenant Marybeth Head, and I am a NOAA Corps Officer. The NOAA Corps is the smallest uniform service, with only about 335 officers. The NOAA Corps can trace its roots to 1807 when Thomas Jefferson created the U.S. Coast and Geodetic Survey. We are considered the operational arm of NOAA to support their environmental and scientific missions.
NOAA's mission statement is: "To understand and predict changes in climate, weather, ocean, and coasts, to share that knowledge and information with others, and to conserve and manage coastal and marine ecosystems and resources." Our primary function is to drive the large white-hulled research vessels or fly aircraft for NOAA.
To become a NOAA Corps Officer, you need to have a bachelor's degree with the major courses of study related to NOAA's mission. Since NOAA does so many things for this nation, this can mean quite a wide range of science, technology, engineering, and math majors. You increase your chances of acceptance by gaining hands-on experience in jobs related to your course of study. Since we go to sea for the first two years of our career, gaining experience on small boats is a great place to focus your efforts. If you prefer flying rather than spending time at sea, we recommend getting some time working towards your private pilot's license.
Once you are selected, it's off to boot camp with you! Yes, we have our Basic Officer Training Class (BOTC), which is about five months long. It's held at the Coast Guard Academy in New London, Connecticut, alongside the Coast Guard Officer candidates. The training will teach you a variety of disciplines related to seafaring life, including lie ship handling principles, marine firefighting, military etiquette, and leadership. Upon graduation, you will be sent to work in a leadership role on one of our nationwide NOAA ships. Each of the 15 ships serves different functions but they're all tied together by the primary missions of hydrography, fisheries research, oceanographic research, coastal monitoring, and ocean exploration.
After two years stationed on a ship, you then report to your land assignment, where you will be for three years. There are many different jobs you may be assigned to, and each has a unique range of activities you may be responsible for managing. From vessel operations coordinators in the national marine sanctuary systems to officers charged with navigational responses for the Office of Coast Survey, the scope of exposure to other parts of NOAA is endless.
I have been in the NOAA Corps for eight years, and it has never stopped surprising me with wonderful experiences, such as sailing aboard the E/V Nautilus during the Luʻuaeaahikiikawawāapalaoa: Dual-Technology Seafloor Mapping expedition. It's a lifestyle choice because such a hunger for adventure can come at the cost of establishing roots in one particular location. In my short time in the Corps, I have been able to sail the entire eastern seaboard, act as a hydrographer that surveyed uncharted waters near glaciers in Alaska, become a NOAA diver, and bring new technologies online to improve our processes, and make many friends along the way. Who knows where this golden highway of opportunity will take me next I hope to see you there!
E/V Nautilus Expedition
This expedition focuses on high-resolution mapping areas of Papahānaumokuākea Marine National Monument (PMNM) currently lacking data using ship-based mapping surveys in deep waters as well as deploying the uncrewed surface vessel DriX for nearshore mapping.