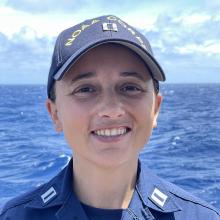 Marybeth Head
She/Her
Guest Mapper
NOAA Corps Officer
NOAA
Tell us about your work/research. What kinds of things do you do?
As a NOAA Corps Officer, we are mainly responsible for driving the white hull ships for NOAA. I have been stationed on the hydrography ships NOAA Ship Thomas Jefferson and NOAA Ship Fairweather. In the world of hydro, my interest and specialty is unmanned systems to conduct hydrographic surveys. I'm currently stationed at the NOAA Diving Center as the Executive Officer where we create new NOAA divers to conduct diving missions throughout the nation.
What sparked your initial interest in your career?
When I was 5 years old, my mother took me to an aquarium and I saw a diver cleaning the exhibit. I pointed to the diver and said "Mama I want to do that someday." My future was set from that point forward. After that, everything was science and oceans. I didn't find the NOAA Corps until after college but I knew that it was going to be the dream job if I could get in. After 2 years of applying, I finally got accepted and am now getting to live my dream.
Who influenced you or encouraged you the most?
My mother. She gave so much of herself to make sure I had every opportunity to achieve the dream. She worked tirelessly to support me every step of the way and believed in me despite the odds. Her work ethic and attitude towards life was a force of nature and light that I will carry with me always.
What element of your work/study do you think is the most fascinating?
Working in both the field of scientific diving and hydrography provides a unique perspective on emerging technologies vs the human experience. When can science be achieved with an unmanned system and when are we required to have a diver in the water? It's a big philosophical discussion point that I love to engage in. The perspectives I hear always vary so widely depending on an infinite amount of factors.
What other jobs led you to your current career?
I have worked as a marine biologist, assistant dive safety officer, and a deckhand on a charter fishing boat for most of my time after college. These were largely operational jobs since I was eager to take a break from academia for a bit. I loved those jobs and they really helped me grow some life experiences that helped me get into the NOAA Corps.
What are your degrees and certifications?
Bachelor of Science in Fisheries and Wildlife - Oregon State University 2010
Divemaster - PADI, NOAA
100 Ton Masters Near Coastal - USCG
Senior Watch Officer - NOAA
ASV Operator - NOAA
UAS Pilot in Command - NOAA
Hydrographer in Charge - NOAA
What are your hobbies?
I love fishing any chance I get. I also love spending time with my wife and two kids. They are a blast and I love them to pieces. We like to hike and do art projects together whenever we can.
What advice would you give someone who wants to have a career like yours?
Don't ever be afraid to ask for help. Be sure to give thanks to people along the way toward your dream job. Most of us never get to where we are without some form of support in one fashion or another. Gratitude is incredibly important to give back in return.
How did you get involved with the Ocean Exploration Trust?
I was appointed by NOAA leadership to engage with the Nautilus crew and the science team to determine if there is an avenue for our junior officers to augment aboard and support missions. Ocean Exploration Trust operates differently than NOAA and it has the potential to provide an opening of the perspective aperture for our new folks. I'm honored and humbled to serve NOAA in this capacity.
Expeditions
Marybeth participated in the following Ocean Exploration Trust expeditions: