Photo album:
Let's Go Deep, Like Really Deep, Into the Pacific Remote Islands Marine National Monument
New Depth Record Set exploring the biodiversity of Pacific Remote Islands Marine National Monument
While exploring the Pacific Remote Islands Marine National Monument (PRIMNM), ROVs Hercules and Argus went somewhere no one has ever gone before, below 3122 meters.  
The team set a new exploration depth record for the region descending down to 3750 meters in the area south of Palmyra Atoll. The unnamed and unexplored seamount at that depth revealed dramatic geological landscapes from ancient volcanoes and new Earth as well as a diverse range of sea life. 
In addition to this record setting dive, the team also completed the second deepest dive, diving ROVs to 3490 meters the day before while exploring the western edge of the volcanic platform of Palmyra Atoll. This dive was not only in the monument protection but also in the Palmyra Atoll National Wildlife Refuge, which protects 12 miles off the shore. Exploration directly supports managers of these precious places by expanding our understanding of biodiversity and habitats.  Exploring at new depths in protected waters, the team is able to highlight the amazing organisms who call this place home inspiring scientists, wildlife protectors, and organizations in their policy and management recommendations for these ocean areas.
This album was created by Science Communication Fellows Brandy Jones, Dijanna Figueroa, with Jamie Zaccaria and Kelly Moran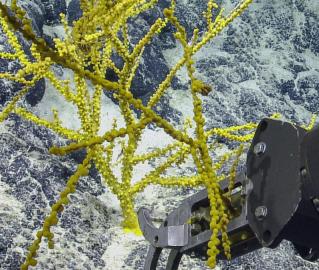 E/V Nautilus Expedition
The deep-water areas around Kingman Reef and Palmyra Atoll are within one of the largest marine protected areas in the world, the Pacific Remote Islands Marine National Monument (PRIMNM). Despite a growing number of expeditions to explore deep-sea environments of the PRIMNM, including a 2019 Nautilus expedition, many areas remain unexplored.