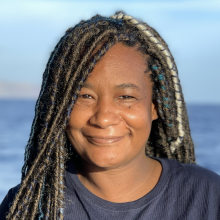 Dijanna Figueroa
Science Communication Fellow
Science Educator / Communicator
Tell us about your work/research. What kinds of things do you do?
I am an educator that works at the intersection of science, technology, engineering, art, entertainment, and innovation. I lead the innovation and design department at an independent school. My job allows me to teach and interact with students in Kindergarten through 12th grade. I currently teach kindergarten science high school marine biology and spend as much time as possible in our maker space and woodshop. I love designing project-based learning experiences for my students. Our class projects include learning how to scuba dive, flying drones, developing underwater sensors with microcontrollers and 3D printers, exploring canyons, natural journaling, building robots, fieldwork, and so much more. I also spend a lot of time working as a Science Communicator. I love all things science and love sharing my love for science with others. I have worked on various science and nature TV/Film projects, including being a featured scientist on nickelodeon's Noggin Knows and Disney +'s Aliens of the Deep. If I am not in the classroom or working on a communication project, you will find me with my family somewhere close to the ocean.
What sparked your initial interest in your career?
I fell in love with the ocean when I visited the tidepools for the first time. 
Who influenced you or encouraged you the most?
My parents were always very supportive. My Dad would always tell me that all things are possible. 
What element of your work/study do you think is the most fascinating?
A fascinating part of my job is that it allows me to be a lifetime learner. I learn something new every day! 
What other jobs led you to your current career?
My love for science led me to my current career as an educator. I started my career as a full-time scientist and researcher and slowly but surely moved into education. It just felt right! 
What are your degrees and certifications?
Bachelors Degree in Marine Biology, Ph.D. in Marine Science 
What are your hobbies?
Beach Walks, K-Pop, Family Time, Drawing in my Nature Journal, Being by the Ocean
What advice would you give someone who wants to have a career like yours?
Stay curious!  
How did you get involved with the Ocean Exploration Trust?
I started my career as a Deep Sea Marine scientist and have extensive experience working as a scientist at sea. As an educator, my personal and professional mission to share the wonders of our ocean planet with others aligns perfectly with OET. I am so happy to join OET as a science communications fellow. I can't wait to connect with kids in classrooms worldwide and share the wonders of ocean exploration!
Expeditions
Dijanna participated in the following Ocean Exploration Trust expeditions: