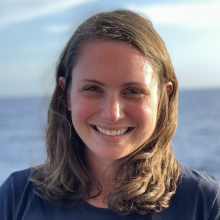 Kelly Guarino
She/Her
Communications Lead
Education Program Coordinator
Ocean Exploration Trust
Tell us about your work/research. What kinds of things do you do?
As the education programs coordinator with the trust, I am in charge of communicating with and scheduling all of the live interactions between the ship and venues across the world, including schools, museums, aquariums, science centers and more. I also work with others in the education department with the application process, selection, and coordination of all Science and Engineering Interns and Science Communication Fellows. I am the point of contact for all SEIPs and SCFs to answer questions and make sure they are ready to head to the ship or have the right materials for when they are home. Basically, I manage a million spreadsheets. I am also dipping my toes into the press and media relations realm making sure our amazing work on E/V Nautilus gets spread around the world!
What sparked your initial interest in your career?
I have always been interested in science and the ocean. I used to think I wanted to be a journalist, then an animal trainer. So it ranged a little bit. But once I got to college I loved various classes and my major changed three times until finally landing on Wildlife Biology. The life of animals and how they interact with each other is so interesting and I always want to learn more. When I started working more on the communication side of things, I became more and more involved with learning how I could bring science and ocean exploration to a general audience. 
Who influenced you or encouraged you the most?
My dad has been my biggest fan. Ever since I was younger he has always encouraged me to get more involved in groups and classes or jobs that revolve around my interests. He has pushed me to get good grades, encouraged me when I wanted to change my major, supported every job or internship, and still thinks my job is the coolest out there. That added support has been a great push in constantly trying to improve my career.
What element of your work/study do you think is the most fascinating?
I think the idea and concept of bringing underwater exploration and science to the masses are the most fascinating. Knowing that I can, and will, be a part of bringing the unknown to future explorers and adults who are genuinely interested in what we are doing always makes me amazed that this is what I do for a living. The fact that we can bring live footage from the ROVs at a depth of 4,000 meters (~13,000 ft) to people all over the world is truly amazing.
What other jobs led you to your current career?
Other jobs that have led me to my job now have varied, but have all had a similar focus, science communication. My internship at Southwick's Zoo in MA taught me how to talk to all ages about animals and conservation, and taught me that scientists have very odd hours sometimes. The job that led me to my current career, however, was Mystic Aquarium in CT. I worked there throughout college, and there I was a Nautilus Live presenter, hosting live interactions from the aquarium side of the interactions with the ship. My connections there and working with Dr. Robert Ballard influenced me to come to apply and "try-out" to be a host with OET, and eventually become a full-time employee first with the production team and now with the education team.
What are your degrees and certifications?
B.S. in Wildlife and Conservation Biology from the University of Rhode Island 2012
What are your hobbies?
I love kayaking, hiking, exploring new parks, reading, and going to the beach. I also am obsessed with my furchild, Riley.
What advice would you give to someone who wants to have a career like yours?
Don't be scared to join a club or group that is outside of your comfort zone. You never know who else is there and what connections you can make. Other people will be in the same boat as you. The more you push yourself the more you will see that you are capable of a lot more than you think. You also might find that what you thought you were interested in might not be what you want to do forever, and a new passion will take its place.
Expeditions
Kelly participated in the following Ocean Exploration Trust expeditions:
Selected Publications
2022
(2022).
"WOAH, what is that!?" - Increasing Student Access to Deep Sea Exploration through Language & Creativity..
National Marine Educators Association