Video:
Cute Dumbo Octopus Eyes ROV Hercules
Papahānaumokuākea Marine National Monument seems to be home to some of the most beautiful dumbo octopuses in the world! Our Corps of Exploration spotted this one over 1,600 meters deep while exploring Woollard Seamount, roughly 40 nautical miles north of Hōlanikū (Kure Atoll) during our NA154 expedition. Enjoy up-close views of its textured and somewhat translucent skin while making "eye contact" with this cirrate cephalopod. 
Many deep-sea octopuses can live a long time, much longer than their shallow counterparts. Scientists believe this round cutie (the world's deepest ranging octopus) can live from three to five years. These neutrally buoyant invertebrates navigate the water by slowly flapping their ear-like fins, using their eight limbs to steer.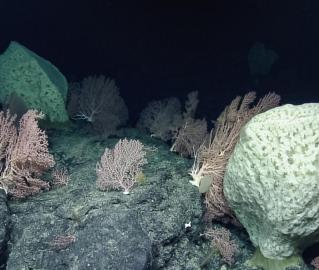 E/V Nautilus Expedition
Ocean Exploration Trust and partners will conduct a telepresence-enabled expedition to explore unseen deep-sea habitats aboard E/V Nautilus with ROV and seafloor mapping operations in the Papahānaumokuākea Marine National Monument (PMNM) focused on the largely unexplored northwestern section of the Monument.