Video:
Kupaianaha Orange Jellyfish
This dark orange pololia (or jellyfish in 'Ōlelo Hawaiʻi) was spotted over 2,500 meters deep on Unnamed Seamount 11 in Papahānaumokuākea Marine National Monument during our Ala ʻAumoana Kai Uli (NA154) expedition. Our Corps of Exploration found this gelatinous creature kupaianaha (amazing). Look closely, and you may see what they believed to be a parasitic ispod hanging on to its underside. 
As E/V Nautilus voyages to the sacred waters and ancestral islands of Kānaka ʻŌiwi (Native Hawaiians), we gratefully acknowledge multigenerational and modern Kānaka ʻŌiwi stewards of these places and honor ʻŌiwi knowledge systems. The expedition name, Ala ʻAumoana Kai Uli (path of the deep sea traveler), was composed in collaboration with OET, Kānaka OET intern alumni, NOAA, and members of the Papahānaumokuākea Native Hawaiian Cultural Working Group as one part of OET's science and education initiatives to expand culturally grounded and ethical engagement in Hawaiʻi. 
Learn more about this expedition funded by NOAA Ocean Exploration via the Ocean Exploration Cooperative Institute.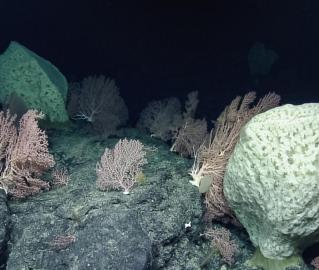 E/V Nautilus Expedition
Ocean Exploration Trust and partners will conduct a telepresence-enabled expedition to explore unseen deep-sea habitats aboard E/V Nautilus with ROV and seafloor mapping operations in the Papahānaumokuākea Marine National Monument (PMNM) focused on the largely unexplored northwestern section of the Monument.