Video:
"Ghostly" Dumbo Octopus in the Deep Sea
Spooky season is almost upon us, and it seems like this Dumbo Octopus was getting in the mood by reflecting light from our technology. Looking appropriately "ghostly" in front of our ROV Hercules' camera, our Corps of Exploration spotted this cephalopod hovering above ROV Hercules as it explored the ocean floor 1,682 meters (5,518 feet, 920 fathoms) deep on an unnamed seamount in Papahānaumokuākea Marine National Monument. Watch as this fan-favorite deep sea creature hovers delicately in front of our camera, reminding us of the beauty of this special place. 
During our Ala ʻAumoana Kai Uli (NA154) expedition exploring the monument, we are gathering data urgently needed to address local management and science needs of PMNM, including a better understanding of the deep-sea natural and cultural resources, biogeographic patterns of species distributions, and seamount geologic history. 
Learn more about this expedition funded by NOAA Ocean Exploration via the Ocean Exploration Cooperative Institute.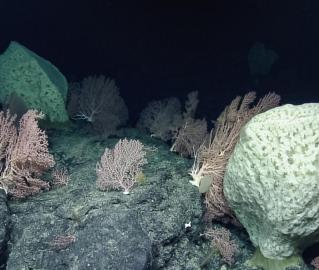 E/V Nautilus Expedition
Ocean Exploration Trust and partners will conduct a telepresence-enabled expedition to explore unseen deep-sea habitats aboard E/V Nautilus with ROV and seafloor mapping operations in the Papahānaumokuākea Marine National Monument (PMNM) focused on the largely unexplored northwestern section of the Monument.